Prince Charles and the Duchess of Cornwall received a personal welcome to Kentucky, from boxing legend Muhammad Ali.
The three-time former world heavyweight boxing champion, who suffers from Parkinson's disease, was not well enough to personally greet the Royal tourists. Instead, the 73-year-old paid tribute to the royals in a letter, which was read to Charles and his wife Camilla, as they visited Louisville on the last day of their US tour.
Ali described Charles as "the greatest", as he welcomed the heir to the throne to his home city in Kentucky.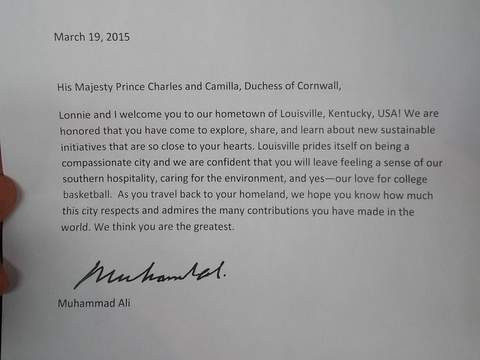 The couple were hosted at the Kentucky Centre for African American Heritage on 20 March by Louisville Mayor Greg Fischer, who read out the touching tribute.
"(My wife) Lonnie and I welcome you to our hometown of Louisville, Kentucky, USA. We are honoured that you have come to explore, share and learn about new sustainable initiatives that are so close to your heart," Ali wrote.
"As you travel back to your homeland, we hope you know how much this city respects and admires the many contributions you have made in the world. We think you are the greatest."
The 73-year-old sports star, considered by many to be the greatest boxer of all time, retired in 1981 and has suffered with Parkinson's disease since the mid-1980s.
The prince's itinerary included a roundtable discussion on agriculture, a visit with environmental activists and a speech on health and the environment.
The royal couple were serenaded by a choir singing My Old Kentucky Home on their arrival earlier in the Bluegrass State. Charles was shown how whiskey barrels are made in bourbon country.
The Kentucky stop came after Charles and Camilla visited Washington DC, where they met with President Obama.
The British royals are on a four-day visit to the United States to strengthen "the special relationship" between the two countries.