Mexican drug lord Joaquin "El Chapo" Guzman's lawyers had recently sought that his prison conditions be eased, which was opposed by US prosecutors on Tuesday (21 March).
The former Sinaloa Cartel head's lawyers asked US District Judge Brian Cogan in a defense filling that Guzman should be shifted from the ultra high-security wing of a Manhattan jail – which allegedly houses terrorists and gangsters – to the general inmate wing so that he can receive more visitors.
However, government prosecutors argued that the tough conditions – referred to as Special Administrative Measures (SAMs) – are appropriate for a man who escaped twice from prison in Mexico. They added that even when he was lodged at a Mexican prison, he managed to run his cartel by exploiting the leniency he was provided.
"Indeed, if there were ever a case warranting SAMs, it is this one," prosecutors added.
The 59-year-old Guzman – also known as "Shorty" – was extradited to the US from Mexico on the eve of Donald Trump's swearing-in as president.
Since then, he has been kept inside a windowless cell, where he spends 23 hours a day with a radio for entertainment, according to court documents.
Guzman is also barred from seeing or speaking to his wife over the phone and all these rules have affected his health as he developed anxiety disorder during his imprisonment in Mexico. According to defense papers, Guzman has reached a point where he "has difficulty breathing and suffers from a sore throat and headaches".
"He has recently been experiencing auditory hallucinations, complaining of hearing music in his cell even when his radio is turned off," the documents claimed.
However, prosecutors noted that El Chapo had been given the largest cell in the wing, which also has a frosted window that lets in sunlight and he has been permitted to hold lengthy meetings with his legal team, which is also teaching him to read and speak English.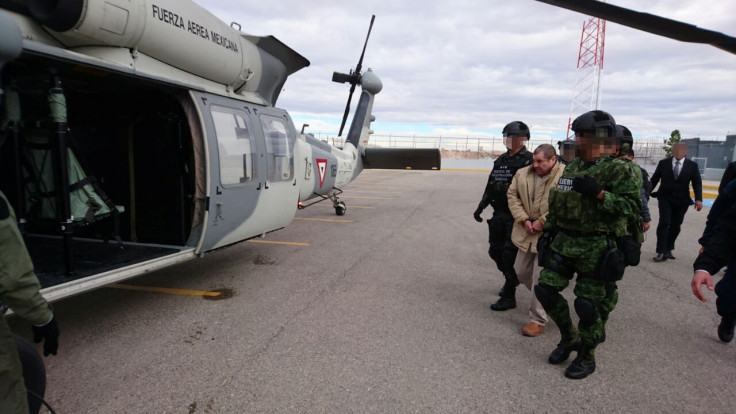 They also denied that he was hallucinating and said an examination by a jail psychologist "revealed that the defendant had merely been hearing sound from a radio that a staff member had been playing".
El Chapo faces 17 counts of criminal charges including money laundering, drug trafficking, kidnapping and murder in cities such as Chicago, Miami and New York.
US prosecutors are seeking life imprisonment for the accused and have want his assests worth $14bn (£11.3bn) be seized. He is scheduled to appear in court in Brooklyn on 5 May.