After being extradited from Mexico to the US, notorious drug lord Joaquin 'El Chapo' Guzman appeared in a New York court on Friday (20 January) and pleaded not guilty to federal charges against him.
According to reports, 59-year-old Guzman — once one of the world's most wanted drug lords — was accompanied by two court-appointed lawyers during his appearance in the federal court in Brooklyn.
He was wearing a blue jail uniform and was clean-shaven. His hair was close-cropped.
"Today marks a milestone in our pursuit of Chapo Guzman. So who is Chapo Guzman? In short, he's a man known for no other life than a life of crime, violence, death and destruction. And now he'll have to answer to that. That's who Chapo Guzman is," Robert Capers, US attorney in Brooklyn, said.
Meanwhile, acting US Attorney General Sally Yates called Guzman, famously known as "El Chapo", the "alleged leader of a multi-billion dollar, multi-national criminal enterprise that funneled drugs onto our streets and violence and misery into our communities".
US prosecutors have sought life imprisonment for him and also asked for an order to seize $14bn (£11.3bn) of his assets.
Guzman — also known as "Shorty" — faces 17 counts of criminal charges including money laundering, drug trafficking, kidnapping and murder in cities such as Chicago, Miami and New York in the US.
When asked by judge James Orenstein if he understood the accusations against him, the infamous drug lord said, "Well, I didn't know until now". However, later when asked again, he responded that he understood.
A second hearing is expected to take place on 3 February, Capers said. The eventual trial would probably last "many" weeks as US prosecutors have over 40 witnesses to give evidence against Guzman.
On the other hand, Guzman's lawyers said they would ensure that their client received a fair trial.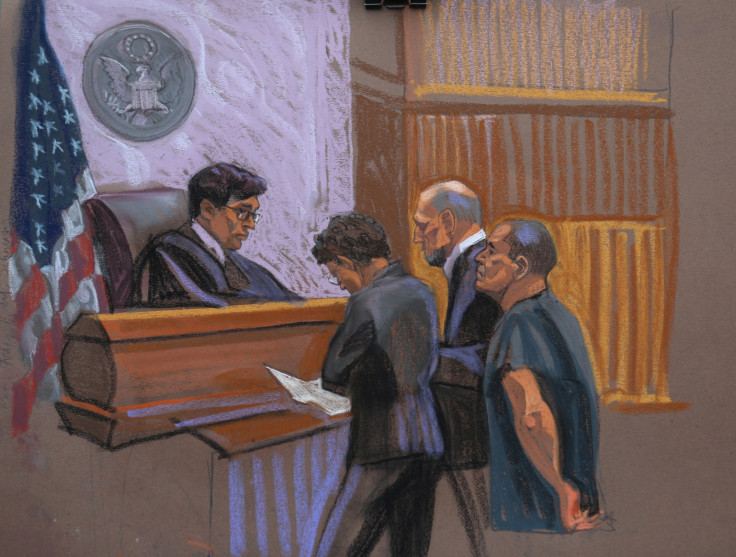 "I haven't seen any evidence that indicates to me that Mr Guzman's done anything wrong. Most of you probably haven't seen any evidence like that either," federal public defender Michael Schneider said.
El Chapo's extradition came on the eve of Donald Trump's swearing-in as president. His extradition was alleged to be an olive branch to the incoming US president, but Mexico officials denied the reports and said it was not related to Trump's inauguration.
After the first court hearing, Guzman was sent to a federal jail in New York City that holds prisoners who have pending cases.
"I assure you, no tunnel will be built leading to his bathroom," special agent in charge Angel Melendez of US Homeland Security Investigations said, noting that the drug kingpin had twice tried to escape from his prison in Mexico.
In 2001, he escaped from a maximum security prison in a laundry cart. Again, in July 2015 he escaped via an elaborate tunnel. However, after almost six months on the run, he was recaptured in Los Mochis, State, in January 2016.