The teenage victim of a sexual assault at an elite US prep school has stepped forward on national TV to slam her attacker and what she considered a cold, disinterested administration at St. Paul's in New England.
Chessy Prout, now 17, shed the anonymity that protects the identify of sex assault victims to discuss the attack that occurred two years ago when she was 15 during a date with a senior at the school.
"I want everyone to know that I am not afraid or ashamed anymore, and I never should have been,'' Prout said in an interview on NBC's Today show.
"I feel ready to stand up and own what happened to me and make sure other people, other girls and boys, don't need to be ashamed, either."
Prout's attacker, Owen Labrie, now 20, was accused at the trial of assaulting his schoolmate during a ritual called the "Senior Salute" at the prestigious boarding academy St. Paul's in Concord, New Hampshire. The ritual involves seniors having sex with younger girls before graduating from St. Paul's.
Prosecutors said Labrie had told police he was attempting to be "No. 1 in sexual scoring at St. Paul's." At the trial he insisted everything with Prout was consensual and stopped short of sex.
Labrie was convicted in 2015 of three counts of misdemeanour sexual assault, felony illegal use of computer services and misdemeanour endangering the welfare of a child. He was acquitted on three counts of felony sexual assault. He was sentenced to a year in prison but that was suspended while he appeals the verdict.
Prout said Labrie was not convicted of the more serious charges because the jury "didn't believe" that he committed the attack "knowingly."
"That frustrated me a lot because he definitely did do it knowingly,'' Prout said. "And the fact that he was still able to pull the wool over a group of people's eyes bothered me a lot and just disgusted me."
Prout revealed recurring panic attacks that she has suffered in the wake of the assault that sometimes compel her to hide in her closet, where her younger sister tries to calm her down.
The Prouts have filed a civil lawsuit against the school, arguing that it failed to protect children entrusted to its care. At some point, perhaps as an intimidation measure, lawyers for the school moved to expose Prout's identity.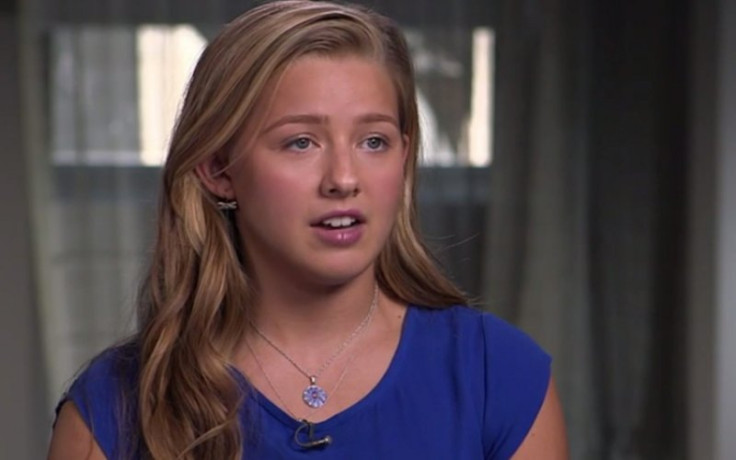 The school argued that the Prouts were attacking its reputation "from behind a cloak of anonymity," according to court documents. That's no longer the case.
"There was just no recognition that I had gone through something like this,'' Chessy said. "And that is one of the reasons why we're pushing for change.
"I want other people to feel empowered and strong enough to be able to say: 'I have the right to my body. I have the right to say no.'"
Initially, she and her family were prepared to "just receive an apology letter' said the teenager. We had been prepared to finish this and just move forward with our lives and let them move forward with their lives, but, you know what, in the pursuit of justice I would've done anything."
When she returned to school she was disdained by several upper pupils who refused to look at her. Prout's father, Alex, and her older sister have both graduated from the school.
In response to Prout's interview, St. Paul's issued a statement, apparently referring to the attack as "unkind behaviour." The school said that it: "...admires her courage and condemns unkind behaviour toward her. We feel deeply for her and her family," said the statement.
"We have always placed the safety and well-being of our students first and are confident that the environment and culture of the school have supported that. We categorically deny that there ever existed at the school a culture or tradition of sexual assault."
St. Paul's also said in the statement that there's "no denying the survivor's experience caused us to look anew at the culture and environment. This fresh look has brought about positive changes at the school."
One-time star swimmer Brock Turner at Stanford University is about to be released from prison after just three months for raping an inebriated woman at a fraternity party. That 23-year-old victim, who remained anonymous, read an incredibly emotional statement at Turner's sentencing in which she talked agonisingly of her loss of self in the attack.
The moving statement attracted wide-spread attention by the media and politicians. Outrage over Turner's lenient treatment was so pronounced that the California legislature has recently passed a law ensuring that anyone convicted of sexual assault in most cases must serve time in prison rather than probation. The law also makes rape of an unconscious victim as serious as rape of a conscious victim who can resist, addressing a sex assault loophole that reduced Turner's sentence.
"Rape is rape, and rapists like Brock Turner shouldn't be let off with a slap on the wrist," Democratic Assemblyman Evan Low said in a statement.
Stanford has recently set new alcohol restrictions on campus apparently in response to its sex assault problem. That has also become controversial as students complain that it sends the message that alcohol, rather than criminal behaviour by attackers, is the primary issue.