A US teacher has been placed on administrative leave for allegedly authoring a fiction book depicting a "futuristic school shooting", prompting a backlash amongst free speech activists.
Patrick McLaw, 23, who penned novels under the pseudonym Dr K.S. Voltaer, has reportedly undergone an "emergency medical evaluation" for publishing the book, according to The Atlantic.
The Insurrectionist depicts a mass shooting in a school set in 2902, and was published in 2011 by Northern Imperial Publishing. A sequel published in 2013, titled Lilith's Heir, was also available on Amazon as an ebook. However, currently neither of McLaw's books are available for sale on Amazon.
McLaw, who is a language and arts teacher at Mace's Lane Middle School in Cambridge, Maryland, was placed on leave by the Dorchester County Board of Education and is being investigated by the Dorchester County Sheriff's Office, CBS Local reported.
He has been barred from entering any school building in the country.
The description of The Insurrectionist on Amazon reads: "On 18 March 2902, a massacre transpired on the campus of Ocean Park High School, claiming the lives of nine hundred forty-seven individuals – the largest school massacre in the nation's history.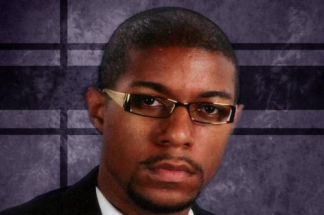 "And the entire country now begins to ask two daunting questions: How? and Why? After the federal government becomes involved, and after examining the bouquet of black roses that lies in front of the school's sign, it becomes evident that the hysteria is far from over."
Banned from schools
A statement by the Dorchester County superintendent of schools, said McLaw was part of an ongoing investigation "due to significant matters of concern brought forth by law enforcement."
"While on administrative leave, he is not allowed to come onto school property or participate in school events. Mr. McLaw's teaching duties have been assigned to qualified personnel to insure the smooth transition of students into the fall semester," the press release states.
On the day McLaw was taken in for the evaluation, a sweep for bombs and guns in the school came up empty, Dorchester Sheriff James Phillips told WBOC News.
"The information we received caused us to return to Dorchester County and immediately take the following steps. A K-9 [search dogs] sweep was conducted at the Mace's Lane School looking for explosive devices and other weapons. A secondary search was performed by police and school officials looking for suspicious packages or other items. Both of these searches were negative."
Phillips has also refused to reveal where McLaw is undergoing the evaluation, but CBS News has reported that the teacher "does not currently have the ability to travel anywhere."
Protest purchases
Buyers on Amazon have commented stating they have purchased the book in protest against McLaw's treatment.
"Bought this in protest of the local authorities arresting and confining this person just for being a teacher and writing a book about a school killing," one wrote.
Another said: "I support the right of Patrick McLaw to write any book he wishes. I downloaded it today, and so should you. I have yet to read it, but I will begin doing so after this post."
An online petition addressed to US president Barack Obama calling for McLaw's release has also been started.