The US has expressed concern over the rising militarisation of the South China Sea after China landed a defence aircraft on one of its artificial islands in the disputed region. Pentagon spokesman Captain Jeff Davis urged Beijing not to escalate tensions further by deploying or rotating military jets at its outposts in the area.
Chinese state media confirmed that a military plane landed on a man-made island in the Fiery Cross Reef on 17 April to airlift three construction workers who were injured. It is reported to be the first time a military plane has landed on one of China's artificial islands in the Spratly archipelago.
"We're aware that a Chinese military aircraft landed at Fiery Cross Reef on Sunday in what China described as a humanitarian operation to evacuate three ill workers." Captain Davis told CNN.
"It is unclear why the Chinese used a military aircraft, as opposed to a civilian one."
Rising tensions
China has grown increasingly assertive on maritime territorial disputes with South East Asian nations in recent years, with the country claiming most of the South and East China seas as part of its sovereign territory.
Beijing has built several artificial islands in the midst of a reef system in the South China Sea known as the Spratly Islands – increasing tension with Taiwan, Vietnam, the Philippines, Malaysia and Brunei, who all have overlapping claims on the territory.
It is also involved in a separate dispute with Japan over a group of eight uninhabited islands in the East China Sea.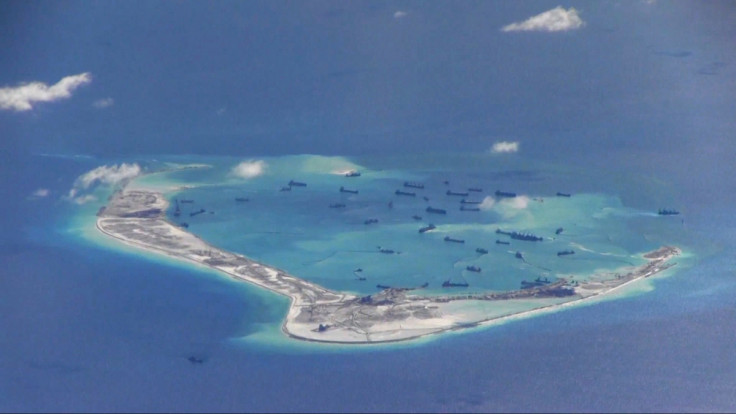 Last month, the US accused Beijing of trying to militarise the South China Sea after satellite imagery appeared to show Chinese deployment of advanced surface-to-air missiles on Woody Island in the Paracel chain.
"We urge China to reaffirm that it has no plans to deploy or rotate military aircraft at its outposts in the Spratlys, in keeping with China's prior assurances," Captain Davis said.
The US military routinely conducts navigation exercises in the region to challenge Beijing's territorial claims.