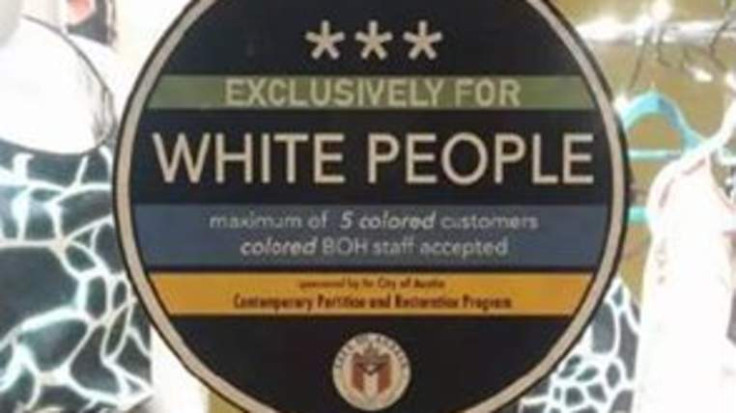 The mayor of Austin, Texas, has vigorously condemned race-hate stickers that have appeared on several businesses in the city, brandishing the message "exclusively for white people".
The stickers appeared mysteriously on the front of a restaurant, a clothing store, a bike shop and a bakery. They featured Austin's official logo, giving the impression they were officially approved.
Reacting to the outrageous attack on the local community, mayor Steve Adler said in a statement: "This is an appalling and offensive display of ignorance in our city. Our city is a place where respect for all people is a part of our spirit and soul. We will keep it that way."
The labels also say "colored BOH staff accepted", referring to "back of house" operations in restaurants, such as cooks.
April Jensen, a black employee at Sugar Mama's cupcake shop, said she was shocked to see the sticker on the front window of the cake shop.
Speaking to the Austin American-Statesman she said: "It kind of hurt. I don't really understand the message behind it. All types of customers come in here."
The bakery's owners described it as a "hate crime". Police and businesses are now monitoring the local area to establish who may have been responsible for the offensive act between 17 and 18 March.
All the stickers have been removed by the business owners whose properties were defaced.