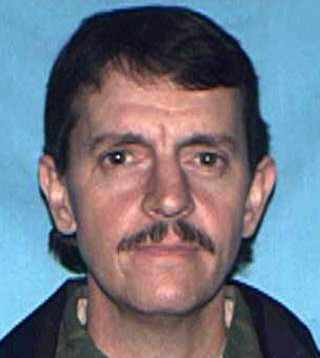 A US woman who was locked in a wooden box by her partner has been found shot dead, along with her teenage son.
The bodies of Sandra Kay Sutton, 46, and her son Zachary, 17, were discovered at a house in Clinton, Missouri three weeks after she went the police for help. They had both been shot dead.
Police have now launched a manhunt for Ms Sutton's former boyfriend James Horn Jr, 47, who is suspected of keeping her captive and killing her.
The bodies were found when family members returned to the house after work, Clinton Police Department said.
The bodies were found when family members returned to the house after work.
On April 30, Ms Sutton told police her former boyfriend had routinely locked her in a box in their home in Sedalia, Missouri, over a four-month period.
Horn was charged with kidnapping, armed criminal action and unlawful use of a weapon, but has been at large ever since.
Clinton Police Lieutenant Sonny Lynch said: "She was not in protective custody. Several folks have asked that. Why didn't police protect her? The fact is, we didn't know she was living in our community. And as far as I can tell from checking, she has never even sought an order of protection against James Horn."
The box in which Horn allegedly kept Ms Sutton captive while he went to work was 100in long, 45in wide and 52in tall.
Ms Sutton told authorities Horn held at knife point as she was forced her to help him build the box. She was locked in the box when he was not home. When he returned from work he released her and she was forced to have sex with him.
Her son Zachary Sutton was a student at Clinton High School. A Facebook post by his school said: "We are heartbroken over the tragic and senseless loss of Zach Sutton and his mother. Counsellors are available at CHS."
According to Missouri State Highway Patrol online court records, Horn is a registered sex offender with convictions in Tennessee in 1993. He was later convicted of kidnapping his estranged wife in Mississippi and served 10 years in federal prison.