Sprinting superstar Usain Bolt believes that the decision to prevent Russia's track and field team from competing in next month's Olympic Games will scare people and send out a strong message regarding the determination to finally rid the sport of damaging drug cheats.
Earlier on Thursday (21 July), the Court of Arbitration for Sport (CAS) chose to reject the appeals of 68 Rio hopefuls. They chose instead to support the indefinite ban from international competition handed down by the International Association of Athletics Federations (IAAF) in November 2015 which was later upheld by Seb Coe's organisation last month.
In the wake of a damning McLaren report released of 18 July – which supported allegations of state-sponsored doping across a range of sports – the decision to enforce a blanket ban on Russian athletes now rests with the International Olympic and Paralympic Committees.
When asked how important it was that a firm message be sent out by banning athletes, Bolt, speaking at a press conference ahead of this weekend's Muller Anniversary Games in London, said: "If you're cheating, I always feel like it's a good message to show that 'listen, if you cheat or if you go against the rules, then we're going to take serious action'.
"This will scare a lot of people or send a strong message to let you know that the sport is serious, we want to clean the sport up. So I definitely think so."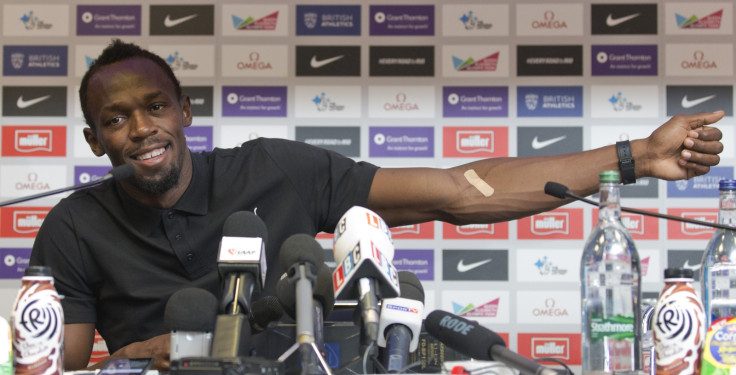 Bolt declined to state clearly if he believes that Russian athletes should be allowed to compete in Rio, stating that "rules are rules" and that he must go along with the relevant governing bodies' decisions. However, he did support the IAAF's right to take swift and decisive action in situations where they have the necessary proof.
"If you have the proof and you catch somebody, I definitely feel you should take action. And if you feel like banning a whole team is the right action, then I'm all for it. As I said, rules are rules and doping violations in track and field are getting really bad. So if this is how you feel like you need to make a statement, then thumbs up."
Six-time Olympic gold medalist and multiple world champion Bolt, who sported a plaster on his arm from a routine anti-doping test undertaken earlier this morning, arrives in the United Kingdom eager to prove that he has no injury concerns after withdrawing from the 100m final at Jamaica's team trials with a hamstring problem. He will run his first 200m race of the season on Friday night (22 July) in preparations for an attempt to break his own world record of 19.19secs in Rio.