Apple recently released the long-awaited iOS 8.2 update for iPhone, iPad and iPod Touch with several Health App enhancements, stability improvements, bug fixes and support for Apple Watch, while numerous user reports indicate that a bunch of new issues have surfaced with the new update.
iOS 8.2 continues the trend of introducing new problems, while trying to fix a few older ones as reported by the folks at GottaBeMobile.
Battery life issues are back with the iOS 8.2 update, as several users are randomly complaining that their handsets are running out of battery faster than normal or draining more battery than before and lasting for barely six hours.
Here are a few comments from angry and disappointed users on Twitter: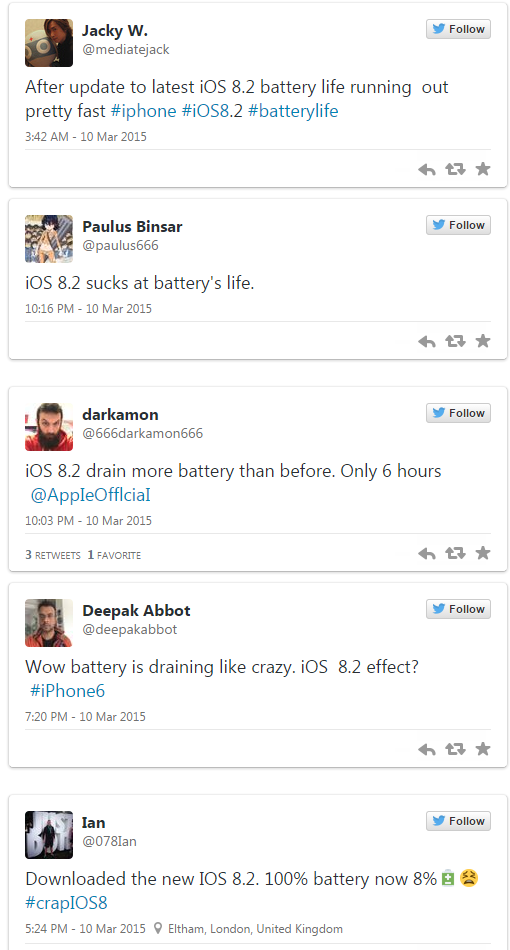 Meanwhile, several users have been flooding Apple support forums with numerous complaints concerning broken messages, broken Wi-Fi, poor cellular signal reception, various installation issues, Bluetooth and performance issues in the last 24 hours, following the iOS 8.2 release by Apple.
A minority of users have claimed that the iOS 8.2 update has actually improved battery-life on their devices, while some others have reported problems with Safari after upgrading to iOS 8.2.
A new Safari issue seems to be preventing users from opening the URL from a third-party app in Safari using the 'Open in Safari' option. It launches Safari, but the URL does not seem to be getting passed to it, and results in it loading a blank page, reports iPhone Hacks.
However, if the same URL is loaded in Safari, then the browser seems to be working fine.
Meanwhile, renowned iOS developer and hacker Steve Stroughton-Smith has tweeted about his share of problems with Safari in iOS 8.2 as he seems to be unable to enter web URLs or search even after relaunching the browser a number of times.
Here is what the developer tweeted while expressing his disappointment with the Safari issue in iOS 8.2:
Meanwhile, another user responded to the tweet with a probable solution for the Safari issue. Here is what the response reads:
However, iPhone Hacks has clarified that an earlier issue with the website not loading content properly in Safari seems to be resolved now, wherein the user had to scroll down to the bottom in order to view the content of the webpage.