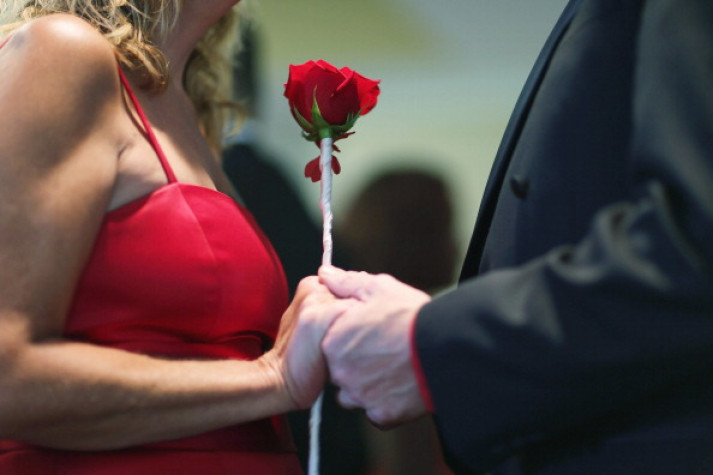 Valentine's Day is truly the most wonderful time of the year, and people around the world celebrate it on 14 February.
Looking for something to say or write to your loved one on Valentine's Day?
IBTimes UK has compiled top quotes to share with your special one.
"Love is composed of a single soul inhabiting two bodies." - Aristotle
"Love looks not with the eyes, but with the mind, and therefore is winged Cupid painted blind." - William Shakespeare
"Let us always meet each other with a smile, for a smile is the beginning of love." - Mother Theresa
"The best and most beautiful things in the world cannot be seen or even touched. They must be felt with the heart." - Helen Keller
"Where there is love there is life." - Gandhi
"I love you because the entire universe conspired to help me find you." - Paulo Coelho
"I am weird, you are weird. Everyone in this world is weird. One day, two people come together in mutual weirdness and fall in love." - Dr Seuss


Getty

"Love is our true destiny. We do not find the meaning of life by ourselves alone - we find it with another." - Thomas Merton
"The supreme happiness of life is the conviction that we are loved." - Victor Hugo
"Love is like an hourglass, with the heart filling up as the brain empties." - Jules Renard
"I want to be one of those old couples you see still holding hands and laughing after fifty years of marriage. That's what I want. I want to be someone's forever." - Rachel Gibson
"Love is missing someone whenever you're apart, but somehow feeling warm inside because you're close in heart." - Kay Knudsen
"Love is not finding someone to live with; it's finding someone you can't live without." - Rafael Ortiz
"It was love at first sight, at last sight, at ever and ever sight." - Vladimir Nabokov
"All you need is love. But a little chocolate now and then doesn't hurt." - Charles M Schulz


Getty
Five Valentine's Day SMS messages
Getty

"Love is the happiness of today, and promise of tomorrow, so this warm note comes to U, to say that you must live life with a heart full of love. Happy Valentine's Day my love!"

"Happy Valentine's Day to the most special person in my life. You are my love, my heart and my joy."
"I love you for not what you are, but what I have become when I am there with you. So be with me forever. Happy Valentine's Day!"
"You've always been my sunshine on a cloudy day, my shoulder to cry on and a helpful hand when I needed you. You deserve this special day as a reminder of the impact you've made on my life. Happy Valentine's Day to my one and only."
"All I wanted was someone to care for me. All I wanted was someone who would be there for me. All I ever wanted was someone who would be true. All I ever wanted was someone like you. Happy Valentine's Day to my inspiration!"