Francois Holland swore on the head of his ex-partner's son that he was not having an affair with another woman, months before a magazine alleged he was dating an actress, France's former first lady Valerie Trierweiler claims in an explosive book.
Trierweiler has written about her turbulent break-up with the socialist president in an autobiography titled Merci Pour Ce Moment ('Thank You For This Moment').
The book was written in secret and is to hit bookshelves tomorrow.
Trierweiler, a journalist and political talk show host, wrote that, as rumours of Hollande's love relations with Julie Gayet started to circulate in March 2013, she confronted him and the president lied.
"'I asked him, 'Swear to me on the head of my son that it's not true and I won't talk about it again'," Trierweiler wrote, adding that Hollande swore dismissing the rumours as "a load of nonsense".
Suicide attempt
Ten months later gossip magazine Closer published photos unveiling Hollande's alleged liaison with Gayet. Overcome by the news, Trierweiler attempted suicide.
"The news of Julie Gayet is top of the morning news… I crack. I can't listen to it," she wrote in an extract of the book that was leaked to French media.
"I rush into the bathroom. I grab the little plastic bag which has sleeping pills in. Francois has followed me, he tries to snatch the bag. I run into the bedroom.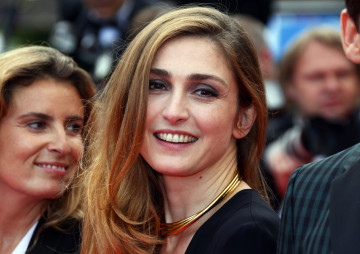 "He snatches the bag which splits. The pills are scattered on the bed and the ground. I reach out to pick some up, I swallow what I can. I want to sleep. I don't want to live through the coming hours.
"I feel the storm that that is going to strike me and I don't have the strength to resist. I want to escape, I lose consciousness," she wrote.
Trierweiler was admitted to the Pitié-Salpêtrière Hospital, where Princess Diana died after a car crash in 1997, officially following a strong emotional shock, and remained there for a week.
After the scandal broke, Hollande announced the end of their nine-year relationship with an 18-word official statement.
Trierweiler claims that the president kept bombarding her love messages sending up to 29 texts a day for months afterwards.
"He told me he needed me. Each night he asked me to dine with him, saying he wanted me back whatever the price."
'Love and despair' memoir
Hollande has never officially admitted the relationship with Gayet, who was spotted spending her summer holidays with another man.
Described by Paris Match magazine as "a tale of love and despair", Trierweiler's autobiography was written and edited in secret.
Shortly after the scandal broke, Trierweiler told Le Parisien newspaper that she was considering writing a memoir, but no announcements followed.
Book stores have reportedly ordered Trierweiler's book under another title written by an unnamed author. Both the Hollande and the Élysée Palace were said to have only become aware of the book's existence this week.
In another passages, Trierweiler takes a political swipe at Hollande, claiming that the Socialist leader hates the poor.
Since the election in 2012, Hollande's approval ratings have collapsed to less than 20%, making him the most unpopular president in recent French history.