Valerie Trierweiler's Merci Pour Ce Moment Tell-All Boycotted By French Bookshops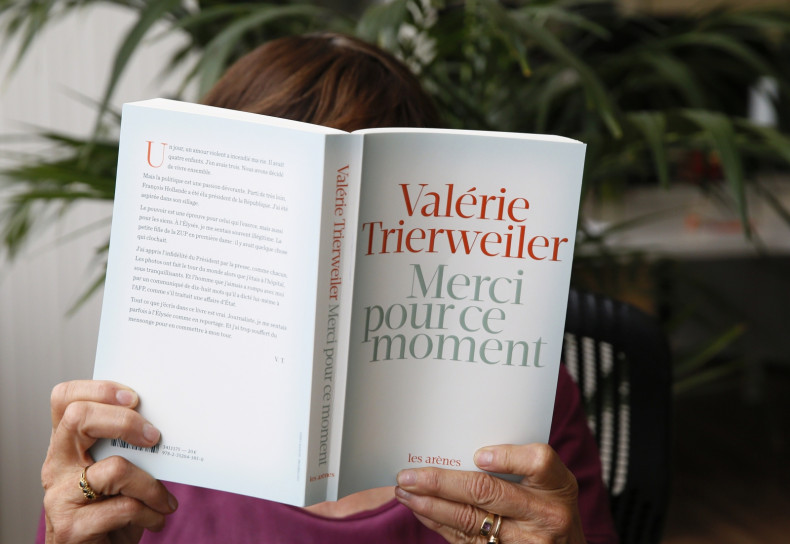 French booksellers have turned their nose up at the explosive book by Francois Hollande's spurned partner accusing its author of breaching the integrity of presidential privacy -- and the privacy of the bedroom.
As Merci Pour Ce Moment (Thank You For This Moment) hit the bookshelves last week, signs appeared in some bookshop windows across the country to explain to readers why they wouldn't find Valerie Trierweiler's opus in store.
"This bookstore doesn't aspire to be a washing machine for Madame Trierweiler's dirty laundry," one read.
"We have 11,000 books. We are not here to be a trash bin for Trierweiler and Hollande. 'Thank You For This Moment' of understanding," said another.
"Apologies -- we don't have Valerie Trierweiler's book but we do still have works from Balzac, Dumas, Maupassant, etc..." wrote another, suggesting some classic and arguably brainier alternatives.
The boycott ballooned on social media under the nickname No Thank You for This Moment, with photos of the various signs shared by tens of thousands of users. On the other hand, some netizens accused the boycotters of intellectual elitism.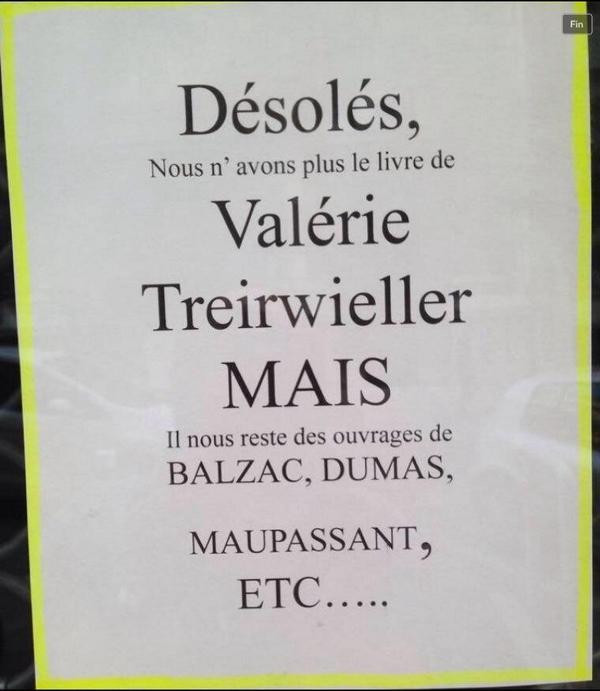 One of the signs appeared in French bookshops.
Twitter/@Pierrelgx
Trierweiler's memoir has been widely labelled as the damaging revenge of a scorned ex-girlfriend to her treacherous partner.
The former first lady wrote it in great secret in the months following her breakup with Hollande, which was sparked by revelations in the press that he was having an affair with actress Julie Gayet.
Recent literature being peppered with examples of score-settling, tell-all books, what appears to have unsettled part of the French readership is that the target of Trierweiler's vengeance was eventually the current president.
Top public figures' love lives have long been taboo in France, with most media abiding by the unwritten rule that disclosure stops at the bedroom door.
Such rules were torn up by Trierweiler, a journalist, as the book reveals jealousy, love and despair at the Elysee palace and, at the same time, takes political swipes at the socialist leader who is portrayed as an indecisive man who hates the poor.
Even some of Hollande's rivals condemned the book, with National Front leader Marine Le Pen, describing it as "indecent" and "a dishonour to France".
A literary critic writing for Slate France said the memoir was akin to "sentimental pornography".
Nevertheless, Merci Pour Ce Moment's sales suggest that the French public had a prurient appetite for presidential gossip.
The book's first 200,000 copies were sold out within a few days and so was the next stock of 100,000 that was exceptionally printed to meet demand.
As the publisher pledged to re-supply stores by the midweek, copies of the book were being sold online for up to five times the original price of €20 (£16).
Le Monde newspaper suggested that some of the boycotting booksellers were eventually adopting a creative way to make up for the empty shelves.