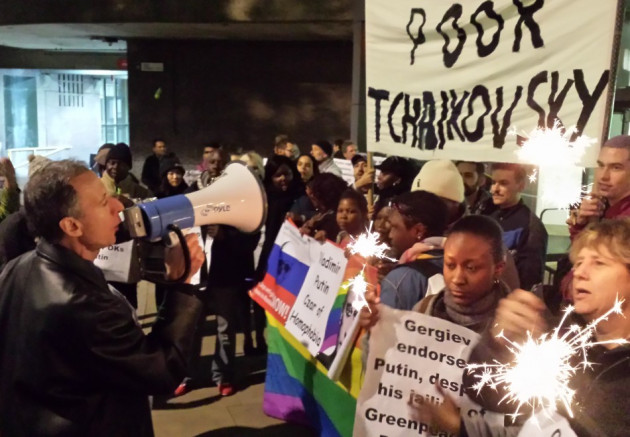 Gay rights protesters led by LGBT activist Peter Tatchell have picketed a concert by Valery Gergiev, Russian conductor of the London Symphony Orchestra (LSO) for his support of President Vladimir Putin and Russia's anti-gay "propaganda" laws.
Up to 40 demonstrators held the protest outside the Barbican in London before a performance of Berlioz's The Damnation of Faust. Human rights protesters held up sparklers with the message: "Sparkle for freedom in Russia. Putin suppresses, we sparkle", shouting "Gay rights for Russia", "Some Russians are gay get over it", "Shame on you Gergiev, stop supporting Putin".
A minor scuffle erupted when a friend of Gergiev argued with the protesters.
"The tragedy is that these people don't know anything about Gergiev," the counter protester, who identified himself only as Jingo, told IBTimes UK.
"They use him as a functionary of the Russian state. Gergiev is a musician - he's nothing to do with the Russian state. He knows Putin but doesn't support homophobia in any shape or form and has said so many times.
"The trouble is that they use him as easy way to get to Putin."
Last week, Tatchell interrupted the opening night of Gergiev's new LSO season at the Barbican. Dressed in a tuxedo, the gay rights campaigner took to the stage and told the audience in a 60-second statement: "Valery Gergiev is a friend, ally and supporter of the Russian tyrant Vladimir Putin. I ask you to oppose tyranny and show your support for the Russian people."
The conductor released a statement on Facebook denying that he had ever supported anti-gay legislation.
"I am aware of the gay rights protest that took place at the Barbican last week prior to my concert with the LSO. I have said before that I do not discriminate against anyone, gay or otherwise, and never have done, and as head of the Mariinsky Theatre this is our policy," Gergiev said.
He has been artistic director of the Mariinsky Theatre in Saint Petersburg for more than 25 years.
"It is wrong to suggest that I have ever supported anti-gay legislation and in all my work I have upheld equal rights for all people. I am an artist and have for over three decades worked with tens of thousands of people in dozens of countries from all walks of life. Many of them are my friends.
"I collaborate with and support all my colleagues in the endeavour for music and art. This is my focus as a conductor, musician, artist and as artistic and general director of the Mariinsky Theatre and principal conductor of the London Symphony Orchestra."
Renounce support for Putin
But Tatchell said the statement was not enough.
"While his affirmation of personal non-discrimination is welcome, Gergiev's statement does not renounce his support for President Putin, whose regime does discriminate against gay people. It also arrests opposition leaders and peaceful protesters on trumped-up charges.
"Gergiev has sided with Putin against Pussy Riot and defended the anti-gay law, reportedly falsely claiming that it is solely concerned with paedophilia. His statement looks like PR spin and a damage limitation exercise.
"Our protest against Gergiev is not just about homophobic persecution in Russia. It is also about his support for a president who has presided over the wider suppression of democracy and human rights."
Gergiev is one of the 500 names from the Russian elite who helped supporting Putin's presidential campaign. He took sides with Putin against the Pussy Riot feminist punk group, claiming that their "punk prayer" at Moscow's Cathedral of Christ the Saviour was nothing but a "business proposition".