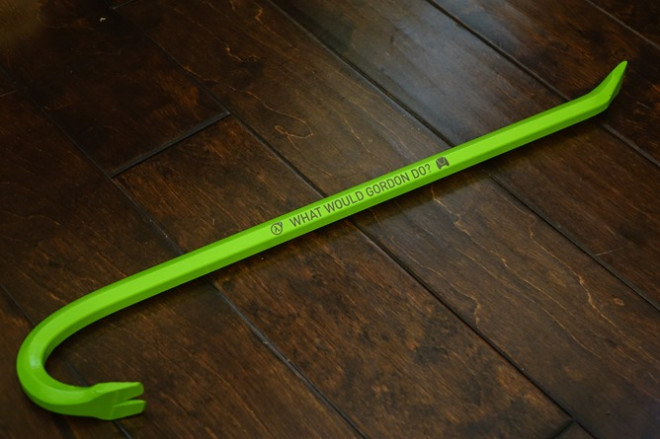 Valve's critically acclaimed First Person Shooter (FPS) game, Half-Life 2, will be coming to Android-powered NVIDIA SHIELD, according to the crowbar infographic reported by folks at Android Police.
The editor of Android Police, David Ruddock, reportedly received a package via mail containing a lime-green crowbar with some interesting infographic inscribed on it.
One glance at the crowbar infographic clearly reveals Valve's favourite logo (λ) for the classic Sci-Fi shooter game, Half-Life 2.
Furthermore, discerning fans of the game could easily tell by the infographic on the crowbar that it points to the iconic game, Half-Life 2 (λ), starring Gordon Freeman with his trademark weapon of choice, the Crowbar.
To sum it up, here are the four key clues depicted by the infographic and the crowbar:
"λ", "What Would Gordon Do?", NVIDIA's SHIELD logo and the green crowbar.
If we put together all the four clues, it clearly suggests that the Half-Life 2 is coming to Android-powered NVIDIA SHIELD (with its trademark green logo) some time later.
It must be noted that Valve's Portal (shooter puzzle game) has already seen a complete port to SHIELD using the same proprietary Source game engine designed for Half-Life 2.
Half-Life 2 is undoubtedly a much more ambitious project than Portal, given its expansive gameplay with a lengthy single-player campaign involving alien invasion and other conspiracies.
With Source engine making its debut on Android, Valve would be eager to port as many popular game titles as possible to the new platform such as Counter-Strike, DOTA 2, Left 4 Dead, Team Fortress 2 and several add-on packs and sequels.
Apart from the green crowbar with the infographic, there is no further information about the game's release date or feature updates for the purported Android platform.
Nevertheless, one thing is certain that Valve could be adding some great Source engine titles for Android via NVIDIA SHIELD.