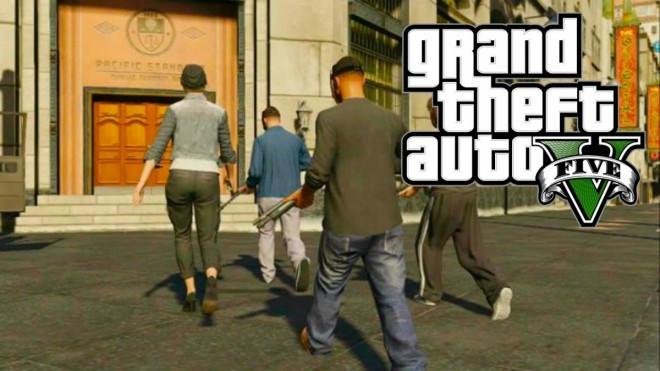 Rockstar is yet to announce the exact release date for the highly-anticipated Heists DLC for GTA 5 Online. Nevertheless, restless gamers have been exploring new ways of playing Heists using mods or simulator tools in GTA Online.
The Achievement Hunters of "Let's Play" heist video fame have posted a remake of the original on YouTube in their effort to better the first attempt at robbing a convenience store, which they screwed up on the previous occasion.
This time around the heist crew members plan to steal an armoured truck before robbing a convenience store in GTA Online, and their plan seems to be as needlessly complicated as their previous attempt, reports Cinemablend.
Their mission plan starts with airlifting an armoured car by hooking it to the Cargobob helicopter and letting the pilot take it to a safe parking garage, where one of the crew members could shoot open the rear door of the car, before grabbing the money bags inside.
The escape plan includes abandoning the helicopter in an air-crash, while the pilot and other crew members evade cops using the motorcycles parked on the roof as they ride off into the subway.
A major part of the video lasting 39 minutes details the preparation, where the team finalises each individual's confusing codenames, while also deciding about their arsenal and equipment inventory for the mission.
The heist mission, given its complexity, unsurprisingly ends up being another hilarious disaster, as was the case with the original.
Despite the catastrophic mission failure, the crew members keep the funny moments alive for the most part of this heist mission, while also enjoying the action as in the previous creation.
When Will Heists DLC Release?
With Rockstar having recently confirmed the release of High-Life DLC on 13 May, it is likely that the Heists DLC will be pushed back further into June.
This theory holds good as Rockstar has recently stuck to a monthly release schedule for its latest DLC releases including Valentine's Day Massacre Update (February), Business Update (March) and Capture mode support for Content Creator (April).