The finale of CW TV's popular vampire drama is just two episodes away and the show creators have already warned fans to brace for some major deaths by the end of season 5 of The vampires Diaries.
The intensity of the series has been mounting with each episode, especially after Markos and the Travellers wreaked havoc on Elena, Stefan and Damon's life along with other vampires. The latest rumour is that Damon will sacrifice his life in order to save the vampires and Mystic Fall.
In episode 20, Markos discovers Elena and Stefan's hideout and uses his magic to paralyse Elena. And the synopsis of Episode 21 'Promised Land' says that Markos kidnaps Elena and Stefan.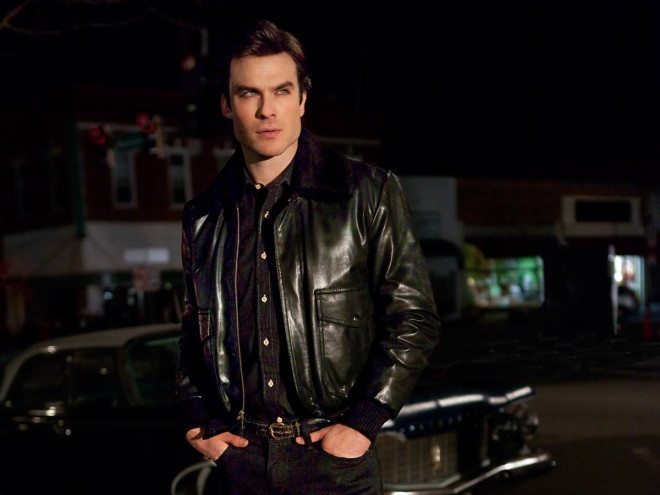 Fans already know that the Travellers are trying to break the witch's curse by draining Elena and Stefan's blood. The next episode will feature Damon desperately try to save his brother and his 'toxic love.'
Meanwhile, Wetpaint suspects that Damon may sacrifice his life to save those of Stafan and Elena from Marcos and the Travellers.
The official synopsis of the finale reads:
"Damon comes up with a dangerous plan that relies on split-second timing from Jeremy and Matt ... Damon's plan causes a massive explosion in Mystic Falls, and everyone is caught up in the confusion, leaving a trail of heroism, sacrifice, relief and despair."
Fans are familiar with an emotional Damon, who can kill or get killed in order to save his loved one. And when his twin brother and love interest are both in danger, some emotional explosion from him is always expected.
Does this mean this is the end of the Dalena love saga and fans won't be able to see more of the super-hot chemistry between their favourite vampires in the upcoming season?
Celebdirtylaundry earlier reported that Ian Somerhalder is leaving The Vampire Diaries because he can't tolerate awkward romantic encounters involving his ex-girlfriend Nina Dobrev. Meanwhile, Somerhalder's request not to kill Enzo's characters was ignored by the show producer which has irked him.
"He (Enzo) is going to become a ghost villain moving forward. We'll see him all the way through to the finale as the bad guy," executive producer Caroline Dries told the website.
Click here to see the preview picture from the finale episode 'Home'.
CW's The Vampire Diaries Season 5 finale is titled as 'Home' and will air at 8 pm on May 15. The finale episode is written by Caroline Dries & Brian Young and is directed by Chris Grismer.
Check the promo of the 'Promised Land' here.