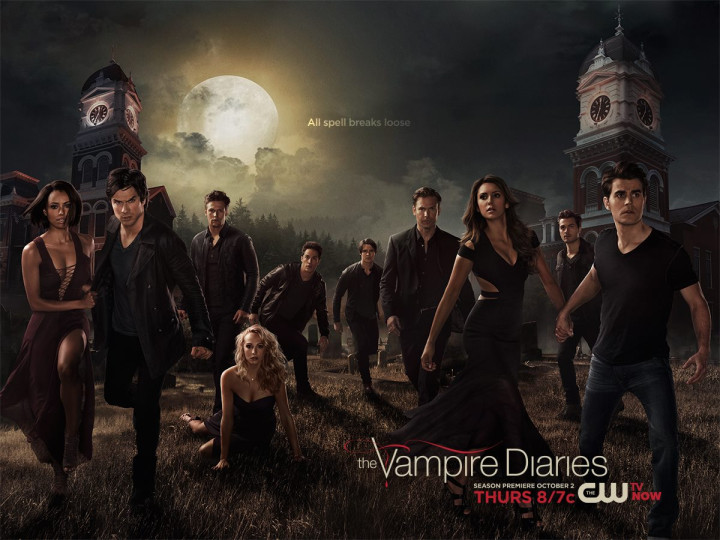 The Vampire Diaries Season 6 premiere has disappointed many after the almost no show of their favourite star Damon.
But fans are in for a treat in episode 2 titled Yellow Ledbetter which will have major portions covering the elder Salvatore brother's time travel saga.
Christian Post reported that Bonnie and Damon will time travel to May 10, 1994 and they will try to figure out a way back home while they look for reasons for being where they were.
Meanwhile, Elena will try to move on from her toxic lover and pleads with Alaric to help her out.
Caroline and Enzo on the other hand will try to find a way to get rid of the Traveller's curse that has kept them away from Mystic Falls for four long months and will start their journey to find Damon and Bonnie who are still trapped on the Other Side.
The official synopsis of the second episode of CW's smash hit supernatural series via Tvequals reads:
"Knowing she needs to come to terms with the loss of Damon (Ian Somerhalder), Elena (Nina Dobrev) turns to Alaric (Matt Davis) to help her move on with her life.
Enzo (Michael Malarkey) convinces Caroline (Candice Accola) to join him as he tracks down a lead to get Damon and Bonnie (Kat Graham) back, but Caroline is shocked when they make an unexpected detour and uncover what Stefan (Paul Wesley) has been up to.
Meanwhile, Matt (Zach Roerig) worries about Jeremy (Steven R. McQueen) who is spending time with Sarah (guest star Gabrielle Walsh), a mysterious girl who has recently arrived in Mystic Falls. Elsewhere, Tripp (guest star Colin Ferguson), leader of the community protection program, makes an interesting confession to Matt about his connection to the town. Lastly, with the Other Side destroyed and gone for good, Damon and Bonnie reluctantly band together to uncover the mystery of where they are and how they are going to get back home."
The Vampire Diaries Season 6, episode 2 Yellow Ledbetter airs on Thursday, 9 October on CW.
Click here to watch the episode online.