The Vampire Diaries season 7 is in for a huge twist after the events of episode 6 as Valerie will break some shocking news to both Alaric and Caroline. But this is not the only major plot change of the popular supernatural series by CW. Fans will also witness a huge showdown between Damon, Stefan and their mother Lily.
As shown in the promo of episode 7 titled Mommie Dearest, the Salvatore brothers will plan to kill Julian, their mother's boyfriend who becomes a threat to their lives right after getting revived by the Phoenix stone. However, Lily makes it clear that due to a spell her life is connected with her boyfriend and any attempts to kill him would harm her.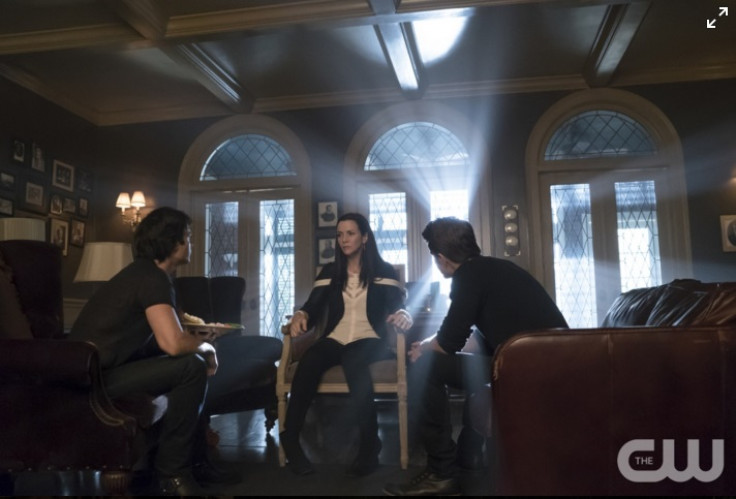 However, it appears that the brothers are not going to change their plans of getting rid of Julian and their mother as according to them, this will be the best Thanksgiving ever.
Alaric, on the other hand, will get the most encouraging news of his life when Valerie informs him that his twins with Jo who were presumed dead are actually alive and are now breathing in Caroline's womb. This will be the biggest twist of the show as fans were expecting plenty of Steroline moments. The TVD season 7 is currently showing flashes of the three-year leap that has already revealed that in future, Alaric will father twin girls with his fiancee Caroline Forbes.
A few months earlier, Candice Accola, who plays Caroline, declared her pregnancy and this has sparked speculation that the actress will be shown as an expectant mother in the popular show. But contrary to fans' expectations of a Steroline baby, this news has come as a shocker.
The official synopsis of the episode reads: In order to get through to Lily about Julian's (guest star Todd Lasance) manipulating ways, Stefan and Damon confront their mother with painful memories from their childhood. However, when Lily reveals a dark secret she's been harboring for over 160 years, Stefan and Damon are left questioning everything they've ever known about their family. Determined to prove himself to Lily, Enzo (Michael Malarkey) comes face-to-face with Julian and challenges him to a duel, but an unexpected twist threatens to complicate things. Elsewhere, Matt (Zach Roerig) finds himself in the middle of a deepening mystery involving the residents of Mystic Falls, and Caroline's (Candice King) world is turned upside down when Valerie (guest star Elizabeth Blackmore) reveals some life-changing news to her.
The Vampire Diaries season 7 airs every Thursday on the CW network. In case you missed the episode during its airing time, click here to watch it live online on the network's official website the very next day. Please note that the link is visible only within the US territory.