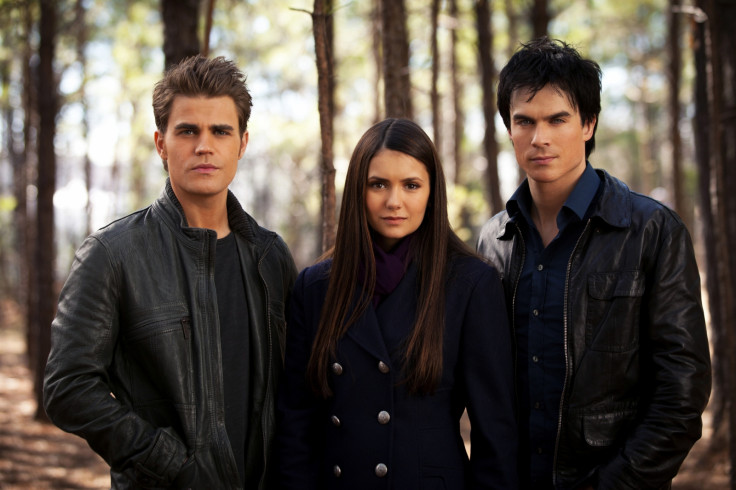 Vampire Diaries aired its series finale on Friday, 10 March, and the ending has reduced its fans to tears, not just because they had to say goodbye to their favourite show but also for the shocking death of a lead character.
The last episode of TVD was about family, love and sacrifices and above all the Salvatore brothers, Damon and Stefan as Paul Wesley's character sacrifices himself to save his elder brother from their biggest enemy, Katherine (Nina Dobrev).
Bonnie realises that Vicki is planning to burn Mystic Falls with hell fire and decides to use the bell's energy to reverse the deadly fire back to hell. But Katherine, who tries to trick Damon with her Elena impression, needs to be killed too and the action needs one great sacrifice. Without any hesitation, Damon decides to take it upon himself to make the ultimate sacrifice.
The brothers share an emotional moment before Stefan changes his mind and injects his human blood into his brother and pushes him aside while keeping Katharine close to him. Moments later, the fire engulfs both of them ending the journey of the selfless Salvatore brother, Stefan.
The series finale then jumps forward and shows how all the characters are settled in their new lives. Keeping her promise to Enzo to live a full life, Bonnie embarks on her world trip. Caroline and Alaric start the Salvatore Boarding School for the Young and Gifted with special donations from Klaus. Elena and Damon live happily until death. And finally, they both meet the people they love the most.
Elena reunites with the Gilberts and Damon meets his beloved brother.
But this was not the ending on Julie Plec's mind as she revealed that she had other plans for Stefan had Dobrev not left the show after the sixth season.
"If Nina had never left, I would've loved to have been able to see if Stefan and Elena could've found their way back to each other. I don't know if they could have, but had that departure not been a part of it, the long game would've been to see if we could bring the love triangle back around before the series ended and really leave a choice," she told Entertainment Weekly.
"But her departure sealed the romantic contract between Damon and Elena. In that moment, to me, the show ceased to be about a love triangle and became a show about the power of these brothers and their love for each other. And so there was no way in hell I was killing both of them and leaving neither of them with the happy ending. It just was never going to happen. I felt like we had to make a commitment to seeing Damon and Elena through to the end," Plec added.