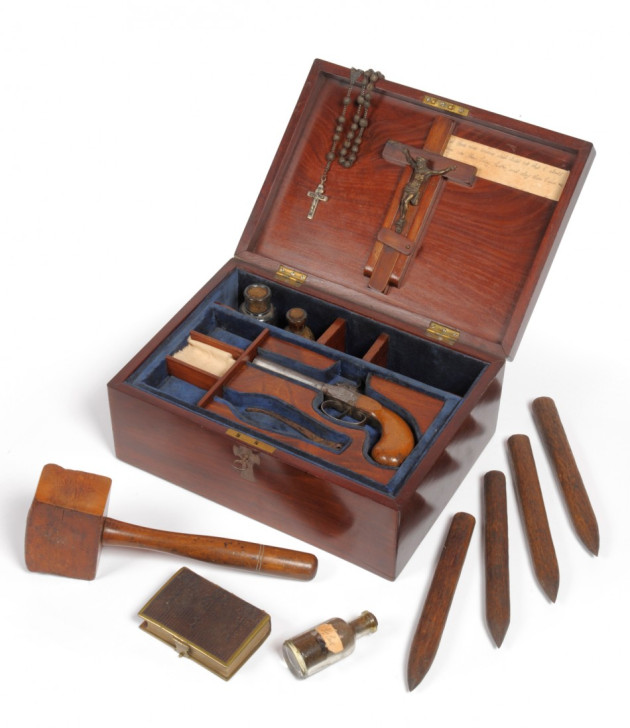 A vampire slaying kit, thought to date to around the 19th century, is expected to sell for around £2,000 at auction.
The fascinating kit is comprised of a mahogany casket filled with everything a vampire hunter would need.
The interior of the box is split into two tiers. Within the top layer is a percussion cap pistol with an octagonal barrel, which would be filled with silver bullets. The lid of the box contains a crucifix and rosary beads that would be used to ward off evil spirits.
Compartments in the box contain three glass bottles, two of which are labelled holy water and the third holy earth. If all else fails, a vampire hunter would remove the top tier of the box to find a mallet and four wooden stakes.
A Book of Common Prayer, dated 1857, is also included. The lot is one of the most notable items in an auction of militaria and ethnographica at Tennants auctioneers in Yorkshire.
Although many of the items date from the 19th century, auctioneer Nigel Smith said he believed it would not have been put together until after the release of Bram Stoker's Dracula in 1897.
"This is a fantastic item which has really captured the imagination of a lot of people," he said. "We have had a lot of interest in it, because it's a wonderful piece and just fascinating.
"We have estimated that it will sell for around £1,500 to £2,000 but it is difficult to say, as it all depends on the bidding of the day.
"The kit came from a house in Leeds that was cleared out by the family of an elderly relative. It was understood that he had an interest in a lot of the occult and mysticism and three of these kits were found."
Smith said it was unlikely that the kit would have been used seriously, despite its professional, high-quality finish.
"Kits like this were often made up as spoof items for the late Victorians, especially those that travelled a lot. It was a superstitious time, but it is unlikely that someone would actually take this and try and go vampire hunting - although you never know."
Smith said interest had been shown in the item by prospective bidders in the US and in Scandinavia. There had also been interest shown closer to home, in the seaside town of Whitby, where Bram Stoker set parts of Dracula, the classic vampire novel.
"I have seen one of these kits before, but this one is in fantastic condition. It is certainly not something you see every day," Smith added.