Manchester United's newly crowned Sir Matt Busby Player of the Year Robin van Persie says the club's future Champions League success hinges on dealing with the disappointment of their last 16 defeat to Real Madrid.
From being 2-1 ahead on aggregate, the controversial dismissal of Nani at Old Trafford sparked a Real resurgence with goals from Luka Modric and Cristiano Ronaldo sending Jose Mourinho's side through.
United may have stumbled to their 13th Premier League title thereafter but they looked a shadow of the side which at one stage were 18 points clear of Manchester City, and Van Persie claims that going forward under new manager David Moyes, they must dismiss the memory of their European injustice if they're to land the biggest prize of all.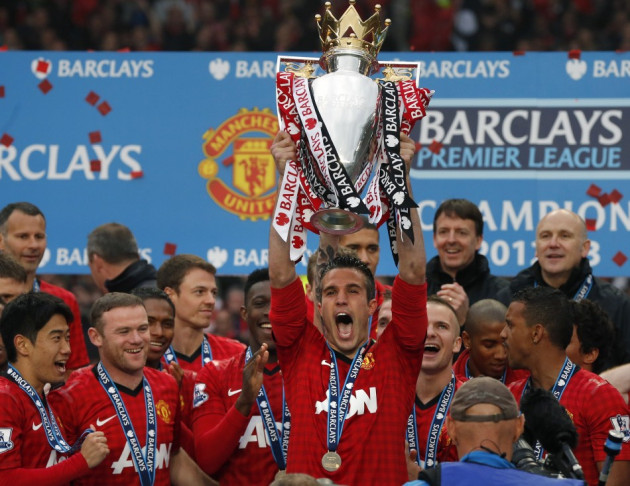 "I think we showed we can compete with the best," said Van Persie. "If you look at the game against Real [Madrid], for example, everything was organised perfectly.
"Our game-plan was working. We were winning so it was a bit harsh how we lost that game but it's part of football as well. If you want to be a winner, first you have to deal with disappointments.
"If you look at the whole club, it's full of winners. Everyone knows how to win and everyone works hard to win and I love that."
Despite finishing behind Gareth Bale for both the PFA Players' Player of the Year and Football Writers' Footballer of the Year awards, Van Persie looks set to claim the Premier League golden boot for a second successive season.
After claiming the award last season, along with a host of end of season prizes, after scoring 30 league goals for Arsenal, Van Persie has started where he left off with the Gunners, leading United's assault in their 20th league title.
So often the difference for United this season, the Dutchman claims his achievements this term have superseded his initial expectation.
"This was always the plan," he said upon collecting his player of the year gong.
"I have to be fair - it's beyond expectations. It made such an impact on me from day one, being involved with all the guys.
"The way they welcomed me made such an impact and, of course, to be able to work with Sir Alex and Mike [Phelan] and all the staff is more than a pleasure.
"I have to say that winning a trophy is fantastic. It's great but the road to the whole trophy is maybe even nicer.
"Being together every day and working on details, getting better step-by-step, beating opponents and then the best feeling of all that is the result and the trophy.
"This whole year has been incredible. I have to thank all the boys, the staff and the fans, who since day one, have been unbelievable. It's been an honour.
"It's made such a big impact on me and I'm still thrilled about what's happened in the last 10 months or so. Hopefully, we can do even better, crack on and win even more trophies."