Conclave 2013: Pope Benedict XVI 'Did Nothing' to Stop Paedophile Priest Nello Giraudo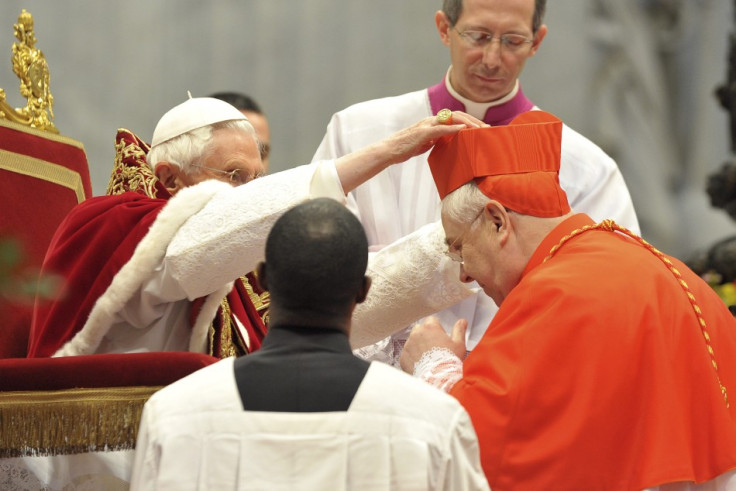 Pope Benedict XVI has been accused of inaction over allegations of child sex abuse against an Italian priest.
Former priest Nello Giraudo, allegedly committed numerous sexual abuses on minors in the diocese of Savona, near Genoa, from 1980 to 2005, of which then-cardinal Joseph Ratzinger was made aware of in 2003 but failed to take action.
Former Savona bishop Domenico Calcagno, who was reportedly told of the abuses by his predecessors and by at least one of the victims, sent a letter to Ratzinger asking how to deal with Giraudo.
"I ask your advice on how to deal [with Giraudo], as the priest intends to continue in his pastoral duties," Calcagno wrote to Ratzinger.
At the time Ratzinger was cardinal-prefect of the Congregation for the Doctrine of the Faith, the Vatican's office tasked with overseeing the church's goodness and therefore to investigate sex abuses committed by clergymen.
"I intend to keep him [Giraudo] away from responsibilities that will put him in contact with children or youngsters," Calcagno wrote adding that "nothing has yet emerged on newspapers and no legal proceedings have been started."
The letter has been published by Italian newspaper Il Secolo XIX.
Following the letter, the paedophile priest was simply moved to another diocese (Portio Magnone), only 12km away from his previous post, Italian TV show Le Iene has revealed.
The Vatican neither opened an investigation nor reported the findings to Italian authorities.
In 2005 Giraudo was allowed to serve as spiritual guide for a local boy scouts group and ended up abusing a 17-year-old, who reported the incident to Italian police.
Le Iene interviewed another three victims of Giraudo, who claimed to have been abused when they were teenagers in 1981, 1994 and 2000.
The first, now 42, said he reported the abuse to Bishop Domenico Calcagno as soon as he was appointed to the Savona diocese in 2002. It took Calcagno one year to write to Ratzinger.
In 2012 Giraudo agreed a plea bargain with prosecutors and was handed down a one-year suspended sentence in relation to the last offence. Under Italian law, the limitation period for the previous offences had already expired.
Giraudo has resigned from priesthood by his own will, according to the TV show, and under church pressure according to the current Savona bishop, Vittorio Lupi.
Domenico Calcagno is now a cardinal and is taking part to the conclave that will elect a new Pope, following Benedict XVI resignations in February.
One of Giraudo's victims has launched an online petition asking for the Vatican to oust Calcagno from the conclave.
It is the second sex scandal to hit the Holy See in a few days. Last week, Scotland's Cardinal Keith O'Brien's declined to participate to the conclave after admitting he behaved "inappropriately" with young priests.
© Copyright IBTimes 2023. All rights reserved.