Cardinal George Pell will plead not guilty to all the charges of sexual abuse by "multiple complainants", his lawyer told the Melbourne Magistrates' Court on Wednesday (26 July) when the cardinal faced the court for the first time after being charged by Victoria police in June.
Pell has already denied the accusations and his lawyer, Robert Richter, QC, maintained the same in the court.
"For the avoidance of doubt and because of the interest might I indicate that Cardinal Pell pleads not guilty to all charges and will maintain his presumed innocence that he has," Richter reportedly told the court.
The barrister added that there was no need for his client to enter the plea at this stage, but maintained his innocence in the case.
Pell, the Vatican treasurer, arrived at the Melbourne court on Wednesday morning escorted by police and accompanied by his legal team as large crowds of media persons waited in the packed courtroom.
A lane outside the court was blocked to make room for journalists and camera crews. Large crowds had gathered near the court ahead of Pell's arrival. Some of his supporters were reportedly heard cheering for him, saying: "God bless you Cardinal," as he walked into the courtroom.
Pell had returned to Australia on 10 July to face the charges that were filed against him late in June by Victoria police. Pope Francis had granted him leave to appear in court for the case.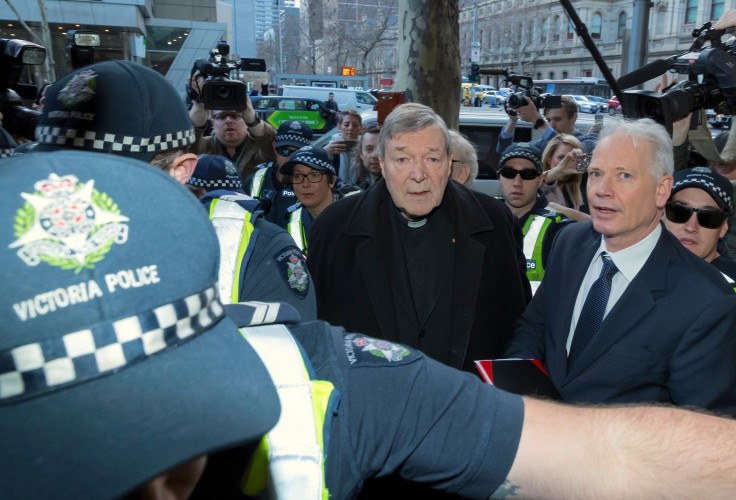 The details of the charge sheet filed by Victoria police were not made public, but the police had then said that their charges were based on statements from "multiple complainants". The magistrate refused media requests for making the charges public.
During the brief court proceeding that lasted nearly 10 minutes, the magistrate added that Cardinal Pell will not receive any special treatment.
The brief of evidence was scheduled to be served on Pell's legal team by 8 September and the cardinal will not be required to reappear in court until October, according to Australian Broadcasting Corporation.