Venezuelan opposition leaders have urged President Nicolas Maduro to "stop crying" as the final tally in the National Assembly polls showed them having secured a two-thirds majority. By clinching a supermajority against the ruling socialist party, the opposition groups have cemented a stronger position in the government and also raised the prospects of a protracted power struggle.
The final results released on Tuesday (8 December) have dramatically strengthened the opposition's place in the government, bestowing them more power. The emboldened opposition will even have constitutional provision to call for a referendum on Maduro's rule in the oil-rich nation, which has plunged into deep economic crisis, and remove Supreme Court justices.
According to the National Electoral Council, the opposition coalition — the Democratic Unity Roundtable (MUD) — won 112 seats out of 167, leaving Maduro's United Socialist Party with the rest. The drubbing was the socialist party's first parliamentary electoral loss in 17 years. The newly-elected members will be sworn in on 5 January.
"We urge the government to stop crying and start working," opposition bloc's leader Jesus Torrealba told reporters in a press conference. "We're just a few weeks away from a very serious problem in terms of food." The opposition rode on the anti-government wave over severe food shortage and dysfunctional economy during the legislative elections.
The final tally also ends two days of suspense as the opposition parties claimed a much larger victory than initially announced by the electoral authorities. Preliminary results published on Monday, 7 December, had shown the MUD managing only a simple majority but the victory's magnitude was made clear only after the final results.
Having spent 17 years lurking on the sidelines of the power corridors, the empowered opposition's initial days are likely to be spent on securing the immediate release of political prisoners. Scores of anti-government activists, including the prominent Leopoldo Lopez, are expected to be freed through the amnesty law. Their second target is expected to be Maduro's economic policies.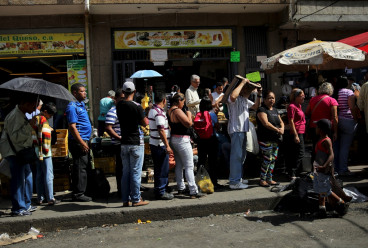 "The biggest problem is the economy. Everything should be aimed at finding a solution to the crisis and toward actions that allow Venezuela to recover economically," said Henrique Capriles, whose Justice First Party of the opposition bloc won 30 seats.
Despite the trouncing, the ruling party has not toned down its rhetoric, promising the socialist-economic policies will not be altered. "The counter-revolutionary right wants to take over this country.... We won't let it," Maduro said during his weekly television show.
"The bad guys won, like the bad guys always do, through lies and fraud. Workers of the fatherland know that you have a president, a son of Chavez, who will protect you." The polling, held on 6 December, was widely seen as a referendum on Maduro, the handpicked political heir of Hugo Chavez.