Venezuelan security forces clashed with rock-throwing protesters in the capital city Caracas after an opposition march against the unpopular President Nicolas Maduro on the National Assembly was blocked on Tuesday (4 April).
Pro-government authorities reportedly closed subway stations and set up checkpoints, besides cordoning off a venue where Maduro's opponents planned to meet for their latest demonstration.
It led to the protesters battling with police as a few masked youths built barricades, burned rubbish and threw rocks and bottles at the armed forces, according to Reuters. In addition, several opposition leaders organised roadblocks.
Video footage from the scene showed police using water cannons, pepper spray and tear gas on the protesters to subdue the angry crowd.
National Assembly head Julio Borges, former presidential candidate Henrique Capriles and activist Lilian Tintori were sprayed by police while they participated in the demonstration, Reuters reported. They reportedly led the protesters onto highways and shoved barricades built by police.
Some of the demonstrators sang Venezuela's national anthem while some banged pots and pans in a show of anger against the unpopular socialist government, which has been blamed for high inflation and economic recession. The crisis has led to acute shortage of food, water and basic supplies.
"We're going to get rid of them but we have to fight," said Jose Zapata, 57, as he marched with a stick in his hand.
Local media reported opposition activists as saying that around 50-100 pro-government mobs, who were armed, arrived on bike to join the skirmish and opened fire in the air. One protester, Bernardo Sanchez, claimed a bullet had become lodged in his thigh.
At some venues, Maduro supporters reportedly threw rubbish onto protesters on the road from residential buildings. Some of them organised their own rally, which added to the unrest in the region.
As the latest demonstrations took place in other cities too, more protests are being planned for 6 April, Reuters noted.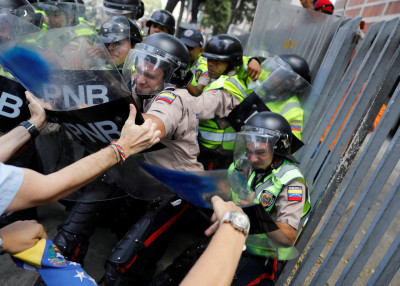 Tensions have been running high in the oil-producing country that is at a political impasse, especially after the pro-Maduro Supreme Court stripped the opposition-dominated National Assembly of its powers on 29 March.
The move sparked massive protests and widespread international condemnation. The top court had to reverse its decision on 1 April after opposition supporters protested in Caracas.
Due to the chaos in the country, legislators also sought for the removal of the Supreme Court judges over ruling that nullified congress, but the move would only be a symbolic one as congress has no power to act.
The 54-year-old president was narrowly elected in 2013, but his ratings tumbled to just over 20% as Venezuelans struggle to cope with years of recession. Maduro has maintained that his country has become a victim of an "economic war" that he blamed on Washington. He also alleged that the US is planning a coup against him.