Venezuela's interior minister has given out his personal mobile number live on television, and urged police officers to contact him directly to report corruption in the force.
Miguel Rodriguez said that the only way the police were going to regain public trust was if corruption was rooted out.
"New police officers will always have some great superiors, well prepared ones," Rodriguez said at an official ceremony in the Venezuelan capital, Caracas.
"But they also are going to get some bad eggs. Report them fearlessly because their (corruption) undermines police authority for the Venezuelan people.
"Just give me the information right away, and we will rip the head off that immoral police superior," the minister warned, after giving out his number.
The comments come amid mounting anger at the murder of beauty queen and television actress Monica Spear, who was gunned down with in her car her British ex-husband in front their five-year-old daughter, in what is believed to have been a botched robbery attempt.
The child was treated in hospital after being shot in the leg in the attack.
Venezuela has one of the highest murder rates in the world, and it is believed that police corruption is partly responsible, with only 8% of murders solved.
Last year, nearly 25,000 people were killed in the South American country, according to the Venezuelan Violence Observatory, a non-governmental organisation. The Venezuelan government disputes the figures.
Last week, the country's president Nicholas Maduro met the governors of all of the country's states, and the mayors of its most violent cities.
He said that he would act "with an iron fist", and use the full force of the law against those committing violent crimes.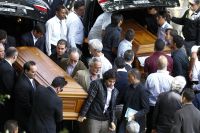 Spear was laid to rest on Friday in the Venezuelan capital, Caracas.
Seven people have been arrested in connection with the double murder, with a digital camera stolen in the attack leading to their detention.
Hundreds of fans and well-wishers joined her family and friends at the service, forming long queues to pay their respects to the much loved actress.