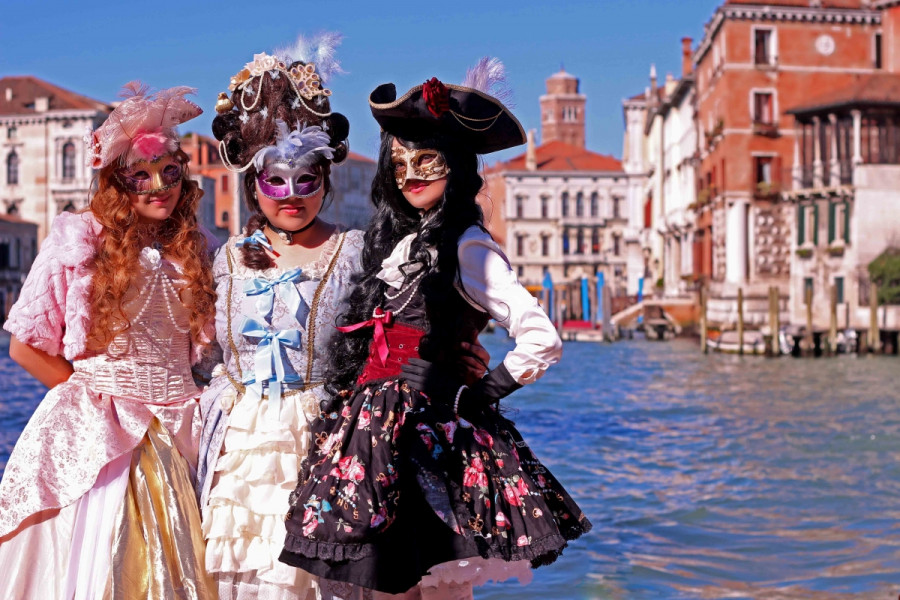 Venice Carnival comes but once a year, and never having gone before, my friends and I decided to visit one of the jewels of Italy for ourselves to experience the wonder of Carnival, or as they say, "Carnivale".
However, there is one big difference between us and your average tourist that descends on the great island city – my friends and I are "cosplayers", i.e. we indulge in adult costuming, a very serious hobby originating from Japan, whereby people seek to recreate costumes of beloved characters from films, video games and Japanese anime cartoons and in essence, bring these characters to life.
The quality of craftsmanship and effort is so great that there are regional and international competitions such as the World Cosplay Summit where seasoned cosplayers can show off their skills. Most of us have met at London conventions and we make all our costumes from scratch by ourselves, from patterning to sewing to embroidering to painting every small detail, props included.
So, having decided that we were going to attend Carnival in Venice, of course we had to do it in style, following the 18th century Rococo artistic movement in our costume designs.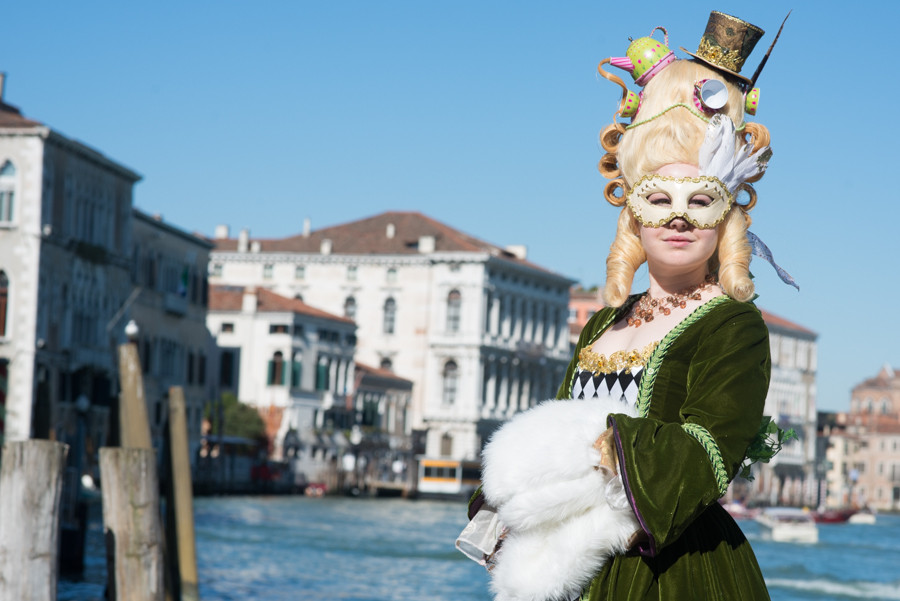 This is my friend Naomi – she decided to go with a "Mad Hatter" theme (from Alice in Wonderland) and to that end, made a green velvet gown lined with purple satin from scratch. Her towering wig had to be sewn together and styled from three different wigs, and all the ornaments carefully attached afterwards. So delicate is this wig that it needed to be re-curled with the aid of a hairdryer just before putting it on.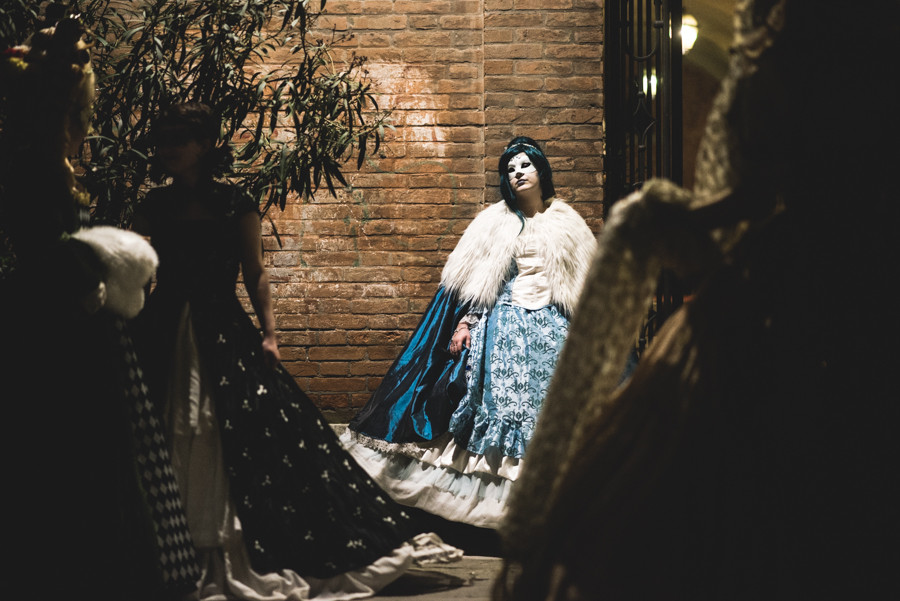 During the Venetian Empire, which lasted 1,000 years, the Carnival of Venice was like a long series of parties that lasted for three months. According to our tour guide, during Carnival, wearing a mask was a liberating practice whereby all classes could mix together as one, be they nobility, the servant class or in trade. Mary Onne's gown took just two days to complete.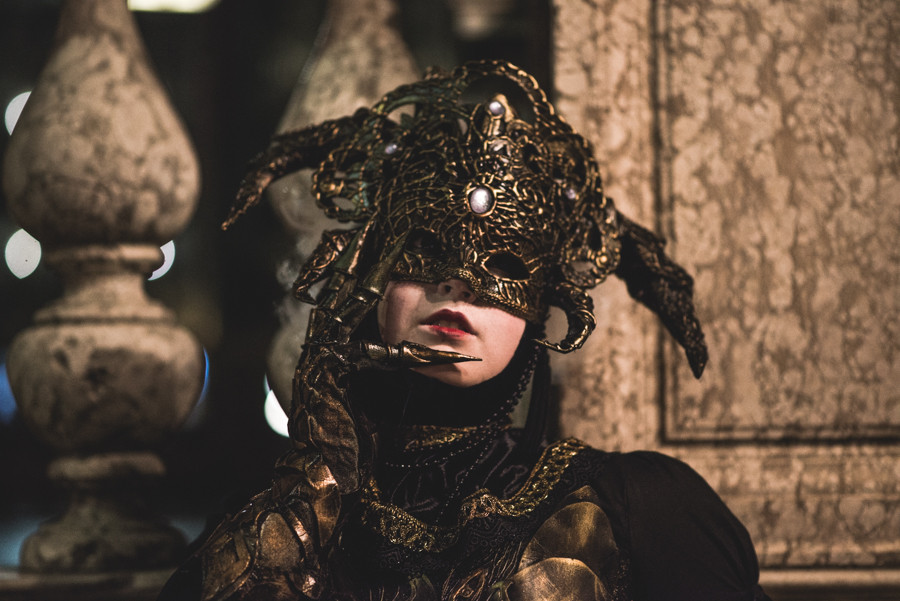 My friends and I all come from different walks of life, have different professions, different racial backgrounds, and are even from different countries. This is Marlies, an award-winning cosplayer from the Netherlands. Her incredibly intricate gown, mask and gloves took her a week to make.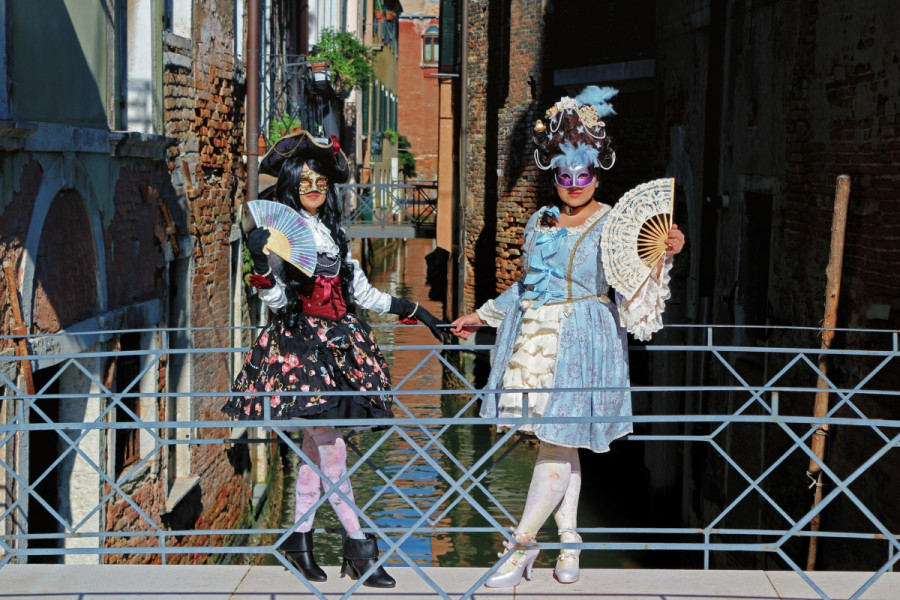 I'm the lady on the right in the blue gown, which I made myself from cloth printed with a motif from a Victorian wallpaper, vintage lace, and 100-year-old blue ribbon from a French milliner. My wig consists of one wig and two sets of hair extensions, wrapped around a metal mesh form to hold the signature shape. Surprisingly, it wasn't that heavy.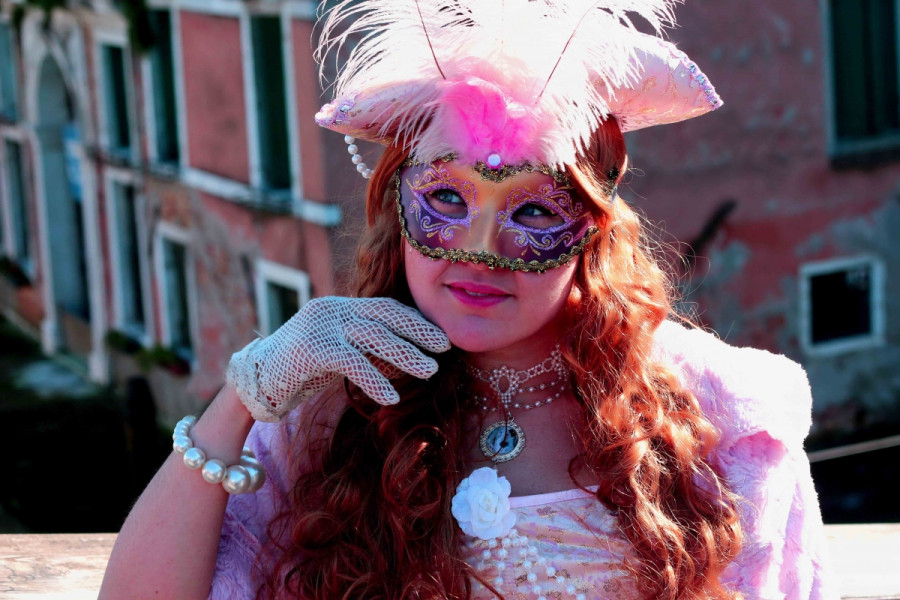 The buildings spring higgledy-piggledy out of the water, and many look to be in varying stages of disrepair. Our tour guide told us that since the fog and damp is so bad, landlords are constantly restoring the buildings, and often prefer to start restoring from within the building first. This is Sarah, dressed as a dashing countess about town.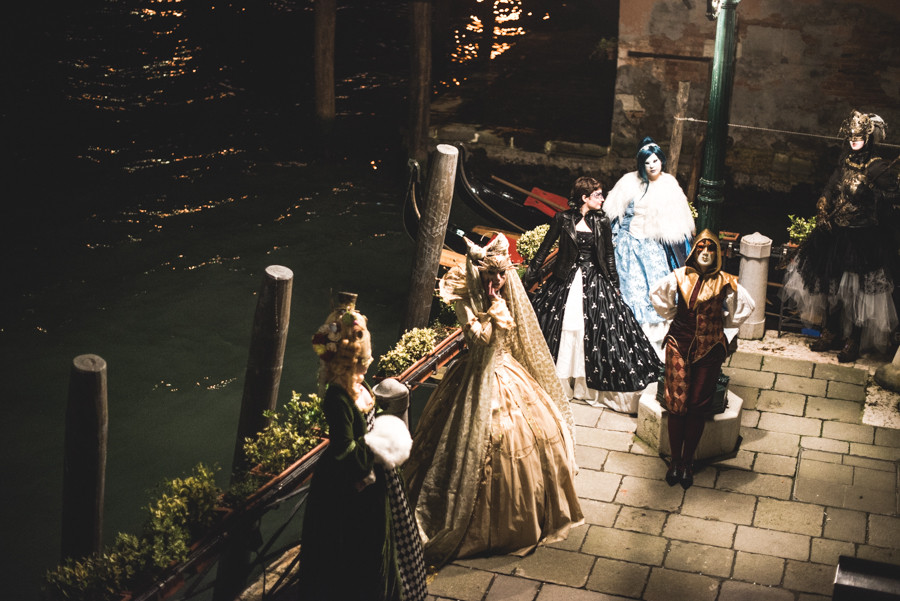 There were so many of us that we had to break up into two groups and go for several different photoshoots during our holiday. Some of us posed on the private veranda of a restaurant just after nightfall, when it was starting to get quite cold (about 8 degrees Celsius), so that we could get away from the relentless tourists.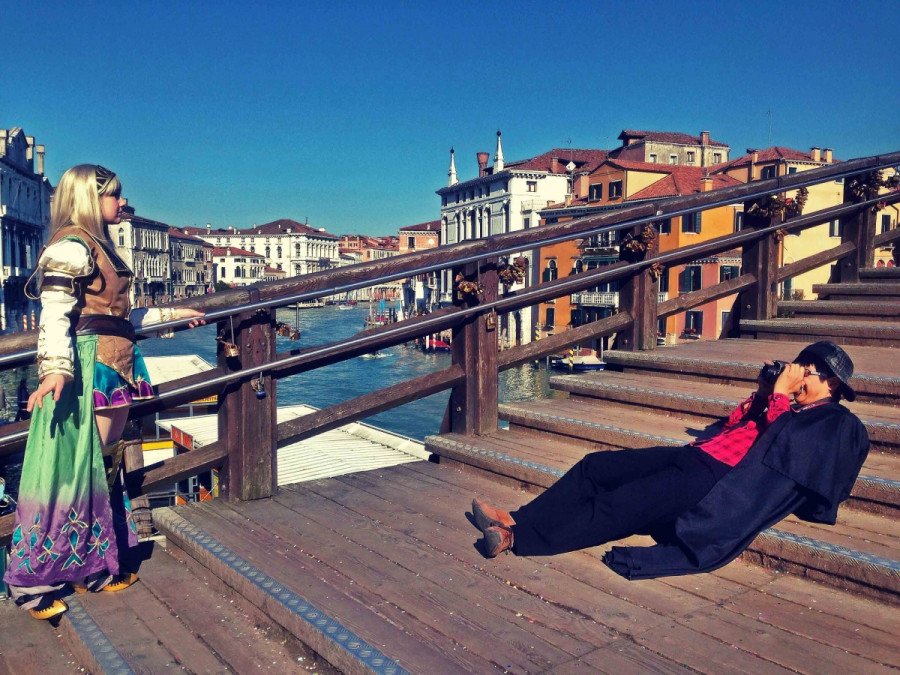 We also brought our own photographers with us. Gary here, strove to achieve the epitome of perfection in his photography as he lay down several times to get the perfect shot. Naomi, who has represented the UK in the European Cosplay Gathering regional competition, is modelling on the very busy pedestrian Academia Bridge as Alicia from the "Valkyrie Profile 2: Silmeria" PlayStation 2 video game, which is set in a fantasy world that looks a lot like Venice.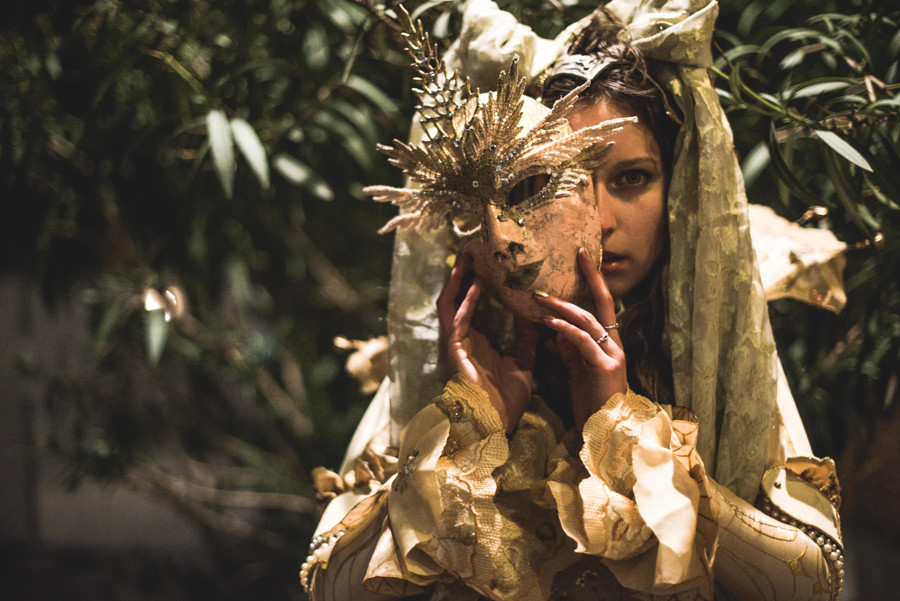 This is Diana, perfectly coiffed for a fancy Venetian ball, although we didn't attend any balls, since tickets all cost about €150. Diana is a professional propmaker who has worked on several Hollywood blockbusters and a certain very popular HBO TV show, but that's all I can say.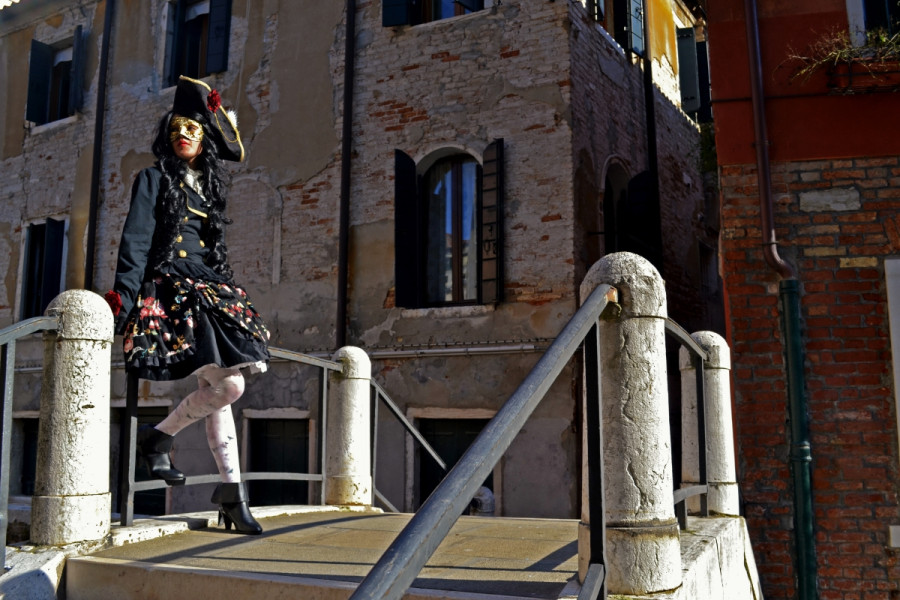 A trademark quality of all cosplayers is that we don't mind posing in inclement weather for hours, or treking long distances to find the perfect location. Emily, an events planner who specialises in Japanese culture events, drew crowds of tourists and locals alike while posing, many shouting, "Bella, bella!", which means "beautiful" in Italian. She made her tricorn hat from scratch, adapted a dress into a pirate skirt and altered a jacket to suit the theme.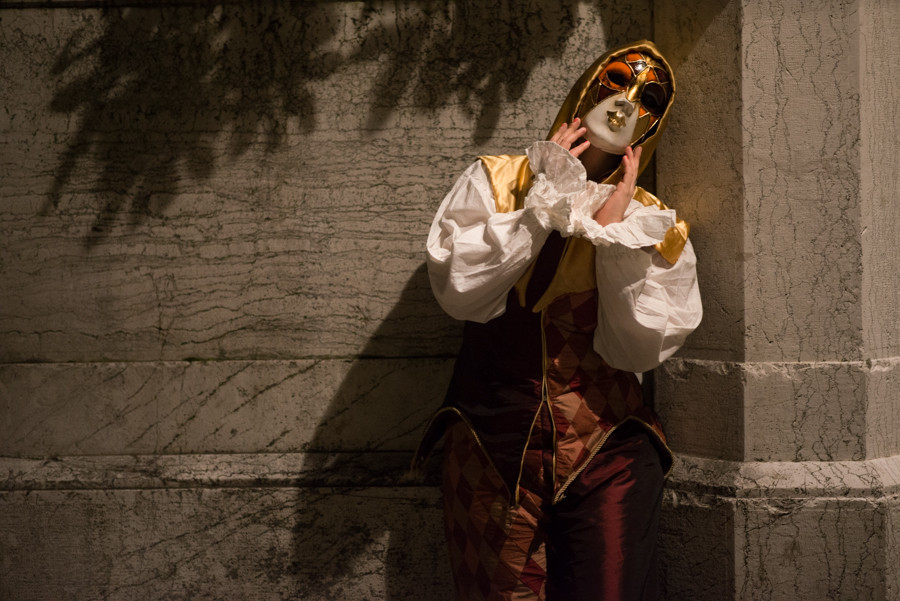 Of course, it wouldn't be a masquerade if we didn't have a traditional jester. This is my friend Anna. She made her costume out of taffeta and silk and it was her birthday. Most of my friends made their costumes in under five days.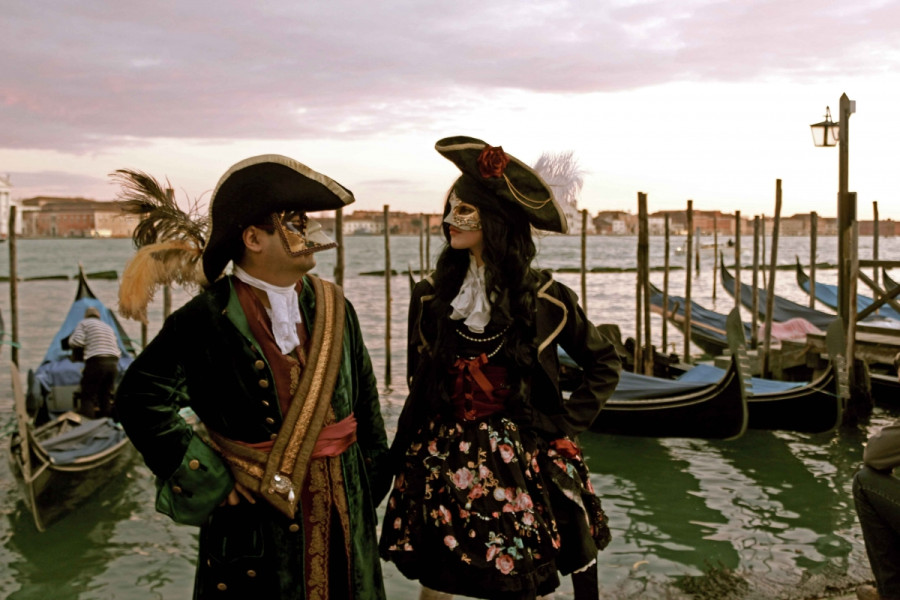 Eventually we did manage to make it down to the famed San Marco Square waterfront, where the two pirates in our group faced off in front of the Gondolas. Augusto here put his costume together from various bits and pieces at the Angels costume store in London, using signature pieces all taken from different old Royal Opera House productions.
Finally, no cosplayers' holiday would be complete without some cosplaying on location. Fans of BBC's Sherlock might see the resemblance between my friend Marlies and Benedict Cumberbatch. During our photoshoot, we overheard tourists walking past saying, "That's not the real one, is it?"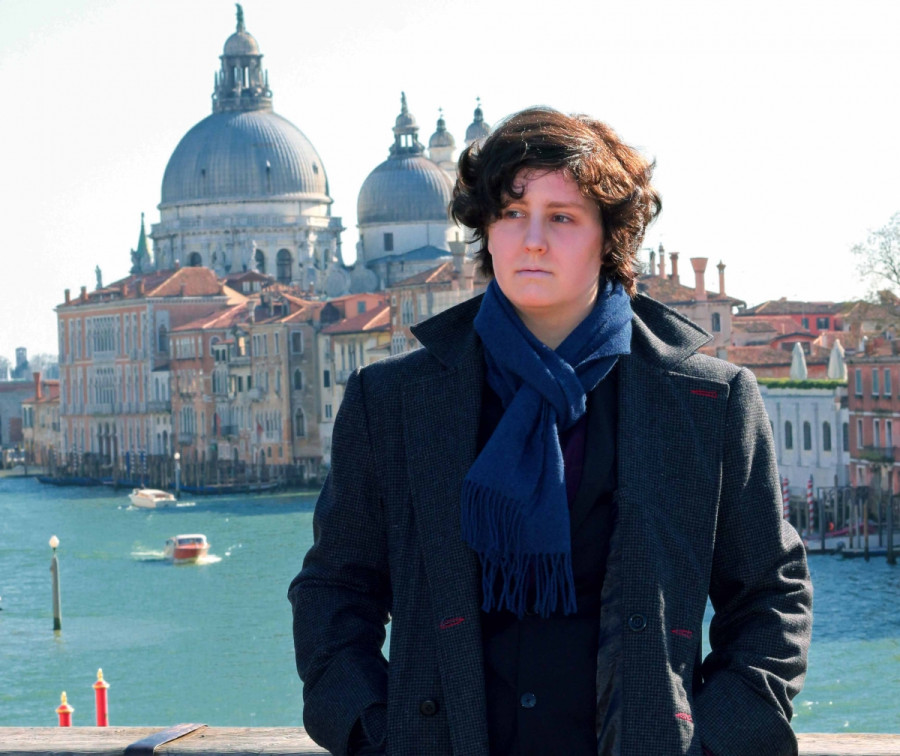 Some photographs by David Sheldrick Fashion Photography