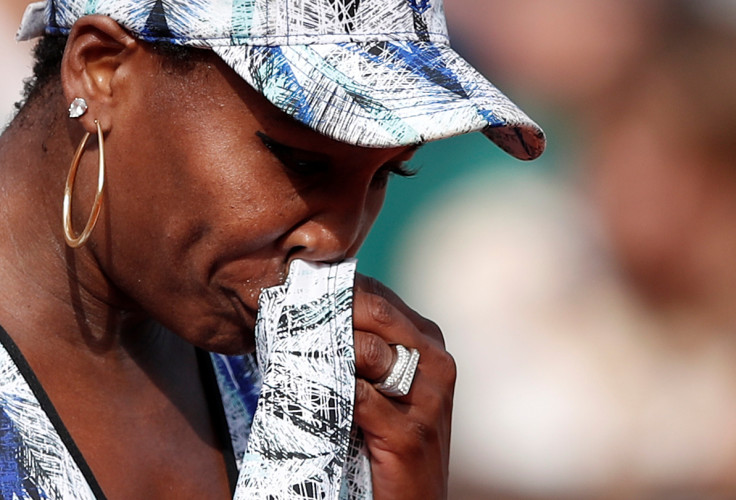 Tennis star, Venus Williams has claimed that the couple with whom she was involved in a fatal car accident would have not been as injured had they been wearing seat belts and driving a well maintained car.
In response to a wrongful death lawsuit brought against her, court records seen by the Daily Mail and TMZ say that the injuries sustained by Linda Barson were not severe enough for her to get damages under Florida law.
The accident occurred on 9 June in Palm Beach Gardens, Florida, when security footage shows Williams driving into an intersection where the Barsons' car slams into her.
Williams contends that the light was green, the Mail reported, and that she was unable to get clear quicker because of traffic.
Almost two weeks after the incident, 79-year-old Jerome Barson died from his injuries. Attorneys for both parties claim the other side was responsible for checking for other cars when the crash took place.
On 30 June, Williams said that she was "devasted and heartbroken" by the accident and added: "My heartfelt condolences go out to the family and friends of Jerome Barson and I continue to keep them in my thoughts and prayers."
Lawyers for Barson previously filed a notice of production for Williams' phone records, saying they believe security footage from the crash seems to show Williams moving her hand to her face, the Mail reported.
Phone records could indicate whether Williams was using her phone when the accident took place. Williams reportedly opposed the notice.
Barsons' attorney disputed the newly reported claims by Williams' to TMZ, saying that data proves the couple were wearing seat belts and documentation shows the car they were driving was well kept.