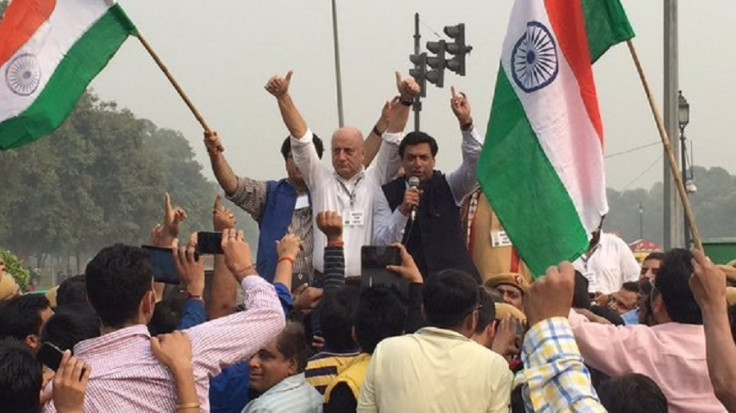 Thousands have taken to the streets of New Dehli today to counter protests by writers and artists against "rising intolerance" last week. Veteran Bollywood actor Anupam Kher led the march to Rashtrapati Bhavan saying that the "award wapsi" campaign of celebrities handing back awards was essentially defaming India.
Kher met Indian President Pranab Mukherjee today (7 November), declaring he had a "great meeting" on Twitter, where he had raised his concerns about the "award wapsi" movement. He was joined by prominent filmmakers Madhur Bhandarkar, Ashoke Pandit, Priyadarshan, actor Manoj Joshi and singer Abhijeet Bhattacharjee on the march.
At least 75 award winners have returned national or literary gongs in an escalation of protests by writers, historians, filmmakers and scientists over "growing intolerance" in India. One of them was novelist Arundhati Roy who believes that minorities, including Muslims, Christians and members of low castes, were being "forced to live in terror".
Amongst the award winners are more than 40 novelists, essayists, playwrights and poets who handed back their awards to the Sahitya Akademi – the country's most prestigious literary institution. India's intellectual community have been angered by the murder of Malleshappa Kalburgi, an award-winning scholar who annoyed Hindu extremists, and the lynching of a Muslim labourer who was believed to have eaten beef – as cows are sacred amongst Hindus.
But the BJP-led government has dismissed the anti-intolerance protest as "manufactured rebellion" and politically motivated. And Kher who is the spouse of Kirron Kher, a BJP MP from Chandigarh, said the march was unaffiliated to any party.
"India is a very tolerant country. Some people have coined the term 'growing intolerance'," said Kher to the Times of India. They are very few. Not every Indian thinks like that. We are secular people. We do not believe in pseudo-secularism, selective outrage or selective patriotism.
"We had a meeting with a lot of writers, artistes, filmmakers and they also believe that there is no intolerance in the country. This march is a symbolic gesture on part of a lot of people over here who say India is one and free of intolerance."
Madhur Bhandarkar, a National Award winner, said he believed the protest was led by those who had opposed Prime Minister Narendra Modi before he was elected. "The projection that is happening for the past few days is very sad," he said. "The people who were against Modiji during elections are the same people who are coming out right now.
"The whole projection and narrative that is going abroad is wrong. It is a diverse country and, of course, there are incidents, but we all condemn them. There is no two ways about it."