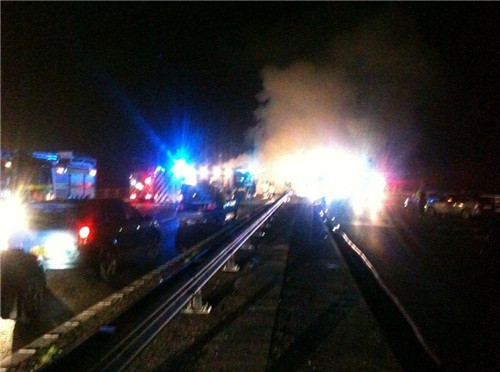 Six of the seven victims of Nov. 4's tragic 34-car pile-up on the M5 have now been named.
They are father and daughter Malcolm and Maggie Barton, 57 and 23, from Windsor; father-of-five and lorry driver Terry Brice, 55, from Bedminster; Malcolm Beacham, 46, thought to be a truck driver; and retired couple Pamela and Anthony Adams, from Newport.
Tributes have been left at the scene. One read: "Nanna and granddad, you will always be in our hearts, thoughts and prayers. Always remembered, never forgotten."
Eleven people are still in hospital, though police have said they are all in a stable condition.
One of the girls in hospital, Emma Barton, is the daughter and sister of Michael and Maggie.
The seven killed and 51 injured were caught in what's being described as Britain's worst traffic accident for 20 years.
Those hurt were taken to hospitals in nearby Taunton and Yeovil.
It's thought that thick fog or smoke clouded drivers' visions on the M5 near Taunton, leading to a series of collisions.
Huge fireballs and explosions rocked the scene in the minutes after the crashes, leaving passers-by shocked at the carnage they were witnessing.
Avon and Somerset Police are investigating a fireworks display at nearby Taunton Rugby Club as it's thought smoke from the event may have contributed to the accident.
In a statement, the rugby club said it's "working closely with Avon and Somerset Police to assist with their investigations".
"It was like someone turned out the lights. I have never seen anything like it," witness Matt Cracker told the Guardian.
"It was like a wall of pitch black fog. In my mind, it was either a total freak-of-nature weather condition, or it had to have been that there was some sort of smoke mixed with it.
"There was one car in front of us. Then all of sudden - bam - it was black.
"The car disappeared ... We might as well have been blindfolded. Next thing we knew we were smashed into the back of it."