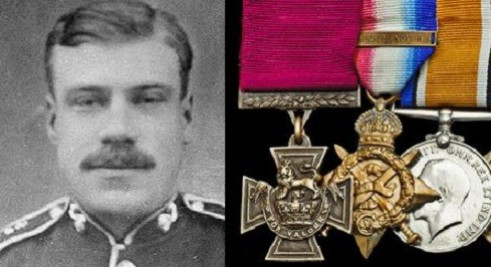 The first Victoria Cross awarded to a private in the First World War has fetched £276,000 at a London auction.
The award, which was originally conferred upon Pte Sidney Godley of the Royal Fusiliers, was sold by London auctioneers Spink as part of their Orders, Decorations, Campaign and Militaria auction.
The award was originally expected to sell for between £140,000 and £180,000, but the price escalated quickly once bidding began.
An anonymous collector eventually won the bidding, with a hammer price of £230,000. However, the total cost will rise to £276,000 once associated charges have been accounted for.
Godley, originally from East Grinstead in Sussex, earned the award for his courage during the defence of the Nimy Bridge at Mons on August 23, 1914.
In a spectacular display of bravery, Godley held the bridge single-handedly despite a shrapnel wound and a bullet lodged in his skull, as his battalion retreated from six divisions of the German army.
Bullet lodged in skull
In what is widely thought to have been the first infantry attack of the Great War, the Germans sent six battalions against Nimy Bridge, a crossing of great strategic significance.
Following the death of his commanding officer, Lt MJ Dease, Godley took control of a key machine gun - even though he already had a bullet lodged in his skull, and shrapnel in his back.
Having dragged three bodies from the area, Godley continued to fire on the Germans even after the defending battalions were ordered to withdraw. Eventually, after allowing his battalion to retreat across a 250-yard patch of exposed ground, he ran out of ammunition - whereupon he dismantled his gun and threw it in the river.
Having saved many of his fellow soldiers, Godley was eventually overrun by the enemy and was captured as a prisoner of war. He was informed that he had been awarded the Victoria Cross whilst in prison, and his guards invited him to dine with them on Christmas Day 1914 as a sign of respect for his achievement.
The London Gazette reported Godley's award in its November 25, 1914 edition. It stated: "Private Sidney Frank Godley, 4th Battalion The Royal Fusiliers, City of London Regiment. VC For coolness and gallantry in fighting his machine gun under a hot fire for two hours after he had been wounded at Mons on 23rd August."
Oliver Pepys, a medal specialist at Spink, said: "The Godley VC is both hugely important and highly emotive, and is one of the most famous medal groups of the Great War.
"Through his actions at Mons, even to the last, when he ensured that his gun would not fall into enemy hands, Godley set a standard that the British Tommy would aspire to for the rest of the War, and brought honour to his regiment."