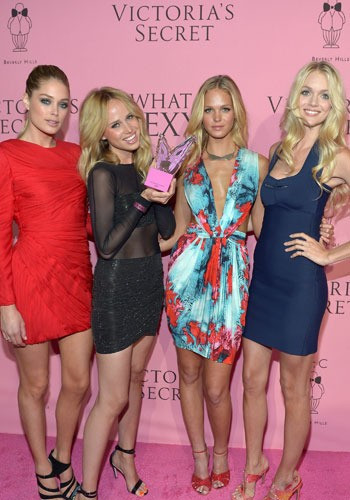 Lingerie brand Victoria's Secret celebrated its seventh annual What is Sexy? List by hosting an exclusive VIP party at the new Los Angeles hot spot, Mr C Beverly Hills.
VS Angels Erin Heatherton, Doutzen Kroes and Lindsay Ellingson hosted the event which celebrated the sexiest celebrities of the year from Ashley Benson to Elizabeth Olsen and Beyoncé Knowles.
Topping the list as the sexiest actress is South African actress Charlize Theron known for her portrayal in films like The Devil's Advocate and Mighty Joe Young.
Present on the occasion were a host of celebrities and fashionistas including American actress Alexa Vega, Bruce Willis daughter Rumer Willis, Emma Roberts, Zelda Williams and Joey Lawrence.
New mother Beyoncé Knowles was enlisted for none other than the sexiest mom of the year 2012. The 30-year-old gave birth to her first child, Blue Ivy Carter in January 2012. The RnB star was also named as the most beautiful woman by People's magazine earlier this year. The publication, which provides a list of the most gorgeous stars every year, gave Beyoncé the 2012 crown replacing last year's Jennifer Lopez.
The Victoria's Secret list also features names like Elizabeth Olsen as the Sexiest Up and Coming Knockout, actress Jessica Chastain for the Sexiest Smile and Diane Kruger as the Sexiest International Import.
In addition to this, inspired by the 2012 What Is Sexy? List, Victoria's Secret has curated collections of lingerie, swimwear, beauty, clothing and accessories so fans can get the sexiest looks for summer.
The summer collection features the new VS Knockout bra, a balconet push-up that gives amazing lift without the wires. To complete the Knockout summer look, Victoria's Secret introduces its new fragrance, Victoria's Secret Bombshell The Summer Edition.
Start the slideshow to catch a glimpse of the celebrities present at the Victoria's Secret What Is Sexy? VIP Party: