Video game preview 2016: Part 3 – Doom, The Division, Persona 5, Star Fox Zero and more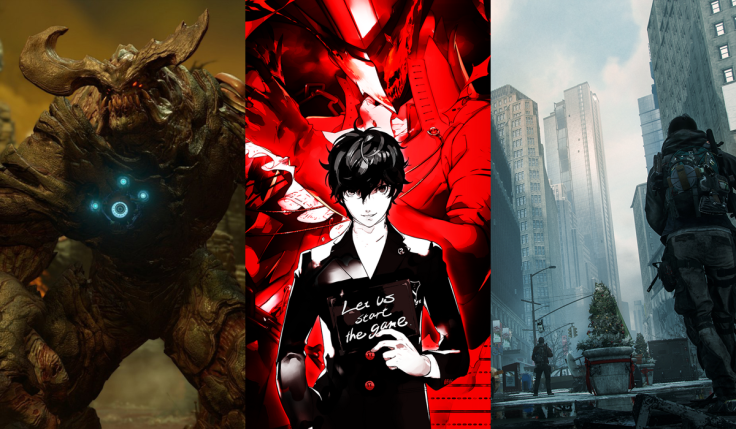 Between Metal Gear Solid 5, Bloodborne, Her Story, The Witcher 3 and so many more I'd use up the rest of this article naming, it's safe to say this has been a pretty great year for games. 2016 however, looks even better.
As is tradition at this time of year, we're looking ahead at the year to come and all the treats heading our way during a packed release schedule. Each day this week (7-11 December) we have been releasing an article focusing on ten of 2016's biggest games – with our top ten most anticipated to be published on Friday.
We continue with part 3, in no particular order.
Read the rest of our 2016 previews here
Doom (PS4, Xbox One, PC)

Doom is back after 11 years and in that time id Software has learnt a thing or two. Gone is the dark, slow-burning horror game, what we have here is a return to something like the Doom of old. Fast-paced, gratuitously violent and packed with bastard hell-spawn. Lovely stuff.
Release date: TBA
Scalebound (Xbox One)

Microsoft's most interesting exclusive of 2016 comes from PlatinumGames and Hideki Kamiya, the legendary director behind Resident Evil 2, Devil May Cry, Viewtiful Joe and Bayonetta. In it you play as your bog-standard video game protagonist oik, but alongside you will fight an enormous and customisable dragon. Expect energetic action.
Release date: TBA
Dishonored 2 (PS4, Xbox One, PC)

Arkane Studios' original Dishonored is an underrated classic of stealth and steampunk in a unique world. The sequel is set some fifteen years later and follows two protagonists, Corvo Attano, the first game's hero, and a grown-up Emily Kaldwin, who Corvo fought to protect. We can't wait to see what Arkane Studios can do on modern hardware.
Release date: TBA
Persona 5 (PS4, PS3)

Persona 5 is a JRPG about high schoolers who foster the ability to conjure "personas", manifestations of parts of their personalities, their psyches that inevitably help them fight the good fight and stop evil. It's the perfect set-up for coming of age storytelling. It has been a long time coming, but next year the long wait for fans will come to an end.
Release date: TBA
Halo Wars 2 (Xbox One)

It's safe to say that this is not a game anybody expected to be announced, but it being unexpected doesn't rob the game of its potential. It didn't take off in a huge way, but there's certainly a lot to the idea of a Halo strategy game and hopefully RTS aficionados Creative Assembly can work their magic. Our suggestion? Focus on smaller scale battles.
Release date: Q3/Q4
The Tomorrow Children (PS4)

Now here's a big ol' dollop of weird. Q-Games' The Tomorrow Children is a strategy game about rebuilding the world after an experiment to unite human consciousness went horribly wrong and destroyed society. You play the survivors in a world filled with Soviet imagery. It's been described by the developer as a "Marxism simulator".
Release date: TBA
Tom Clancy's The Division (PS4, Xbox One, PC)

An open world action game with survival elements and multiplayer co-op and competitive play deeply-rooted in its campaign. First announced way back in June 2013, it feels like we've been hearing about this game forever, but it's nearly here and – given the Ubisoft machine – it's sure to be a success.
Release date: 8 March
Battleborn (PS4, Xbox One, PC)

The introduction of elements from MOBA (massive online battle arena) games into other genres is a trend that doesn't show any signs of slowing down. Battleborn is a first person shooter with MOBA design tropes, such as a cast of characters with different abilities and a levelling system built into each match. Borderlands devs Gearbox are at the helm.
Release date: 3 May
Wild (PS4)

Wild is the ambitious brain child of Rayman creator Michel Ancel, who set up Wild Sheep Studio outside of the confines of his usual employer Ubisoft. The game is set in the Neolithic period (6000-500 BC) and stars a tribal shaman who can gain control of a wide array of animals to complete tasks and move up the food chain.
Release date: TBA
Star Fox Zero (Wii U)

The first of Nintendo's two delayed 2015 exclusives (we'll get to the second on Friday) is Star Fox Zero, the anticipated return of the beloved series, which takes it back to its heyday of vehicular-focused warfare. Initial previews were tepid, but the additional development time plus PlatinumGames' involvement should give us a fine game come release.
Release date: 22 April
For all the latest video game news follow us on Twitter @IBTGamesUK.
© Copyright IBTimes 2023. All rights reserved.