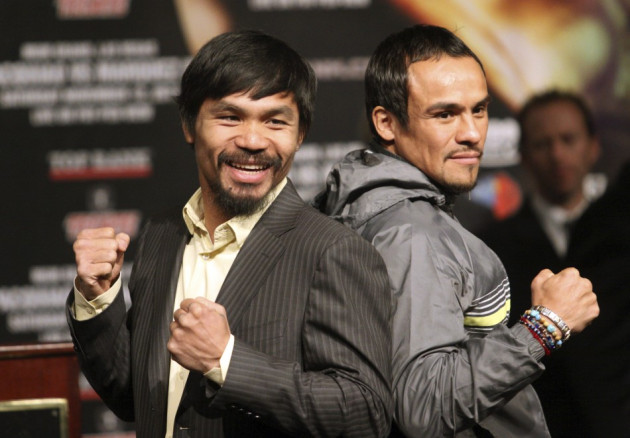 Juan Manuel Marquez believes his superior style will be more than enough to defeat Manny Pacquiao when the pair step into the ring at Las Vegas on Saturday night, for the final fight of their much-vaunted trilogy.
With Pacquiao's WBO welterweight title up for grabs, both men are predicting an emphatic conclusion to their titanic battle.
"They always say that styles make fights, and I think my style happens to be difficult," Marquez told reporters ahead of Saturday's fight.
"All boxers have a difficult opponent, and I guess my style is the most difficult for Pacquiao."
The first fight between the duo, in 2004, was ruled a draw by the ringside judges. The second, four years later, saw Marquez lose his WBC super-featherweight title to Pacaquio after a controversial knock-down decision in the third round.
Marquez has continued to claim victory in both fights, going as far as to hand out t-shirts with the phrase: 'We Were Robbed' when their 12 November fight was promoted in the Philippines.
But Pacquiao refused to be drawn into a war of words with Marquez, preferring instead to focus on overcoming his out-spoken opponent.
"What I need to do with my performance on Saturday is prove that I won the fight, so that there can be no argument this time," he said.
"I'm not angry at Marquez; it's his freedom to do that. He's my friend, but once we get inside the ring, we have business to do. I want to be an example [of] a good fighter, not a trash-talker," he added.
But the 32-year-old Filipino warned Marquez that age has not inhibited his desire to win and he enters Saturday's fight in the best shape of his life.
"I'm more improved right now, compared to three years ago, four years ago," said Pacquiao. "I'm more experienced, especially in my strategy and techniques. I'm more improved in [throwing] my right hand, my movement side to side, and my timing."