Police in the US have released video footage that captured the moment when two officers fired their weapons into a car, killing a six-year-old autistic boy.
Jeremy Mardis was in the back of the stationary vehicle driven by his father, Christopher Few, when he was shot and killed, with Few also badly injured in the incident on 6 November 2015 in Marksville, Louisiana. Norris Greenhouse and Derrick Stafford are both to face trial for charges of second-degree murder and attempted murder. The video was released after being shown in court.
In the body-cam video, in which state police chief, Colonel Mike Edmonson, said was "the most disturbing thing I've seen," an officer drives towards what appears to be a parked car. Few then seems to lean out of the window with his hands up.
The officer can be seen firing several times in the direction of the car and then going to check.
Few is critically injured and bleeding and his six-year-old son, still in school uniform and strapped into his seat, is dead. An officer can be heard saying: "Hey buddy, hey buddy."
Stafford fired 14 shots during the incident and Greenhouse another four. Mardis, who was white, was hit five times in the head and chest. The officers are pleading not guilty to the shooting of the father and son, on the grounds of self-defence.
However, Defence attorney Christopher LaCourt said Few had been chased for two miles by police, before ramming his vehicle into Greenhouse's police car.
However, the officers' claims that the car was being driven at them are not supported by the video footage, said District Court Judge, William Bennett. "That car was not being used as a deadly weapon at that time. I daresay it was not even close to being used as a deadly weapon at that time," said Bennett according to the Independent.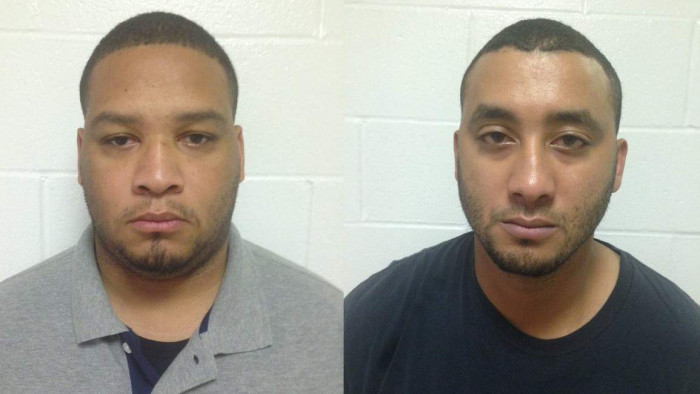 New York Daily News reported that prosecutors claim that Stafford had a previous history of violent incidents during arrests, including breaking the arm of a 16-year-old schoolgirl.
Stafford's trial will begin in November (2016), while Greenhouse's trial will be in March 2017. If convicted they each face a mandatory sentence of life in jail with no chance of parole, reported People.com.