Video surfaces showing Egyptian soldiers killing unarmed men in Sinai
The unverified video has reignited allegations of extrajudicial killings against the Egyptian army.
An unverified video has emerged showing Egyptian soldiers killing unarmed men point-blank in Sinai Peninsula and later rearranging the scene to make it look like a gun battle. The video has reignited accusations of extrajudicial killings and war crimes, with humanitarian agencies calling for a thorough investigation.
The country's army is fighting an Isis affiliate in the region that killed many people in multiple attacks on Coptic Churches over the past few months.
The video, apparently recorded on a mobile phone, is suspected to be part of a video the Egyptian army posted online on 6 December, 2016. The army had then claimed the footage was of a heavy gunfire that resulted in the elimination of a "dangerous terrorist cell", the BBC reported.
The Egyptian army has not yet commented on the video, which was posted online on Thursday (20 April) by Turkey-based Mekameleen TV, which is an alleged sympathiser of the Isis affiliate. However, a pro-government news website in Egypt has alleged that the new video is a doctored version of the 2016 video released by the army.
In the latest footage, two blindfolded men are seen being shot dead by the soldiers. One of the victims was first questioned by a soldier on whether he belonged to the Abu Sanana family. The man responds with a "no" and tells the soldier that he is from al-Awabadah. The soldier then asks him where his grandfather lives and pushes him to the ground before firing multiple bullets to his head and his body.
A soldier is also heard saying, "Not just the head" as a second soldier fires at the body on the ground. The army men are then seen placing guns besides the two bodies, apparently to make it look as if there had been a gun battle with militants.
Yehia Ghanem, Al Jazeera's Middle East analyst, reportedly said that the names, villages and tribes mentioned in the video indicated it was authentic. He added: "It's important that the military call for an independent and impartial investigation in order to clear their name and reputation.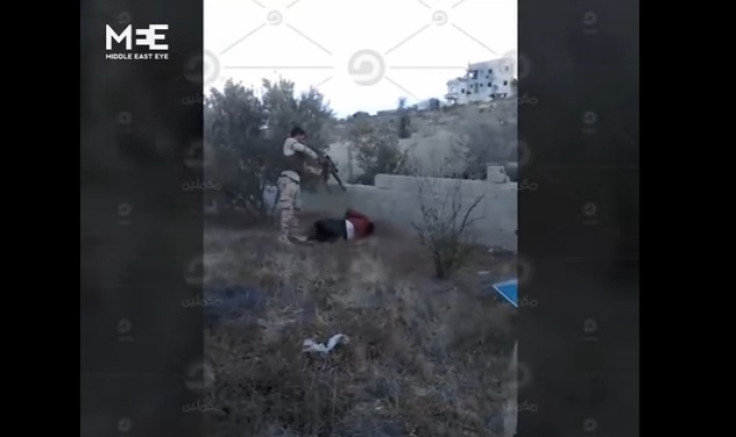 "The political leadership needs to take the reins of the military. For the past few years they've been acting like a runaway train. Actions such as this endanger social peace in the region and could accelerate growing calls for Sinai to separate."
Meanwhile, Human rights group Amnesty International said it has analysed the video that showed the "cold blooded killings". The body urged Egyptian authorities to launch a probe to establish the truth behind the video.
WARNING: GRAPHIC CONTENT IN THE VIDEO BELOW
© Copyright IBTimes 2023. All rights reserved.