A Thai zoo has sparked fury after a video of a worker repeatedly poking a tiger to prompt roars for tourist selfies went viral.
The clip shows a keeper at The Million Years Stone Park and Pattaya Crocodile Farm jabbing the chained animal in the face with a stick while tourists pose with it.
"This tiger gets poked all day, hundreds of times a day so it will roar for the picture with tourists," wrote Edwin Wiek, the founder of Wildlife Friends Foundation Thailand, who took the footage and posted it on Facebook.
The video has registered more than one million views since it went live on Monday (18 December), and has opened up fresh criticism of the kingdom's infamous animal tourism industry.
A spokeswoman for the Pattaya zoo, on Thailand's eastern Gulf coast, told AFP the keeper had been transferred to another job as a result of the incident on the orders of the venue's owner and millionaire businessman, Khun Suan.
"The owner he loves animals and he will not allow staff to hurt his animals," she added.
However, the zoo, opened in 1992, still advertises a daily show featuring a "man fighting with adult crocodiles bare-handed" on its website.
Animal rights groups have long criticised the cruelty they say underlines Thailand's wildlife tourism industry. In the kingdom tourists are given the chance to ride elephants, hold monkeys and pet tigers for a price.
"We believe that the taking of selfies with wildlife should be stopped completely," said Wiek, adding that these activities are also risky for humans.
"Every year hundreds of people are bitten or clawed in similar situations."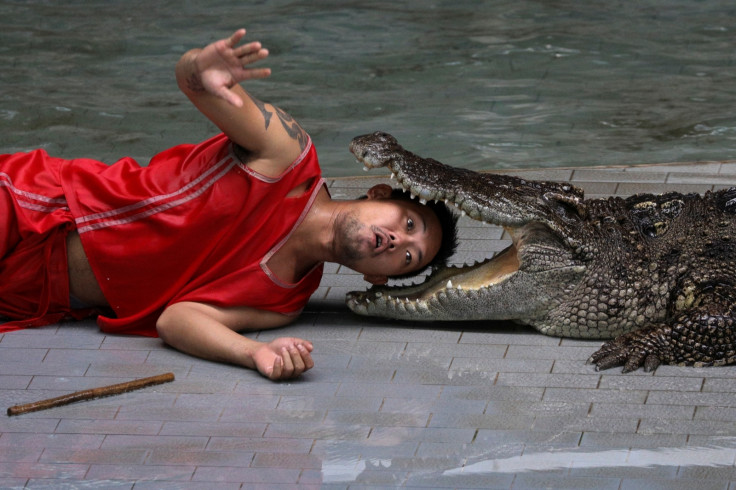 Earlier this month boxer Floyd Mayweather holidayed in the tourist hotspot of Phuket and posted photos on Instagram showing him riding an elephant, another practice criticised by animal rights advocates.
A report by World Animal Protection, also this month, said just under 2,200 elephants are part of Thailand's tourist industry "with many kept and used in ways that cause great suffering".
In 2016, police closed the Kingdom's infamous Tiger Temple after finding forty dead tiger cubs in a freezer at the tourist site run by Buddhist monks.
The attraction in Kanchanaburi, west Thailand, was accused of having links to the illegal wildlife trade, which sees tiger bones and body parts used in traditional Chinese medicine.