Violence erupts in Athens as Greeks take to the streets to protest against Obama's visit
Leftists are angry that Obama planned his visit two days before the anniversary of the bloody 1973 student revolt.
Around 7,000 people took to the streets in Athens to protest against US President Barack Obama's visit to capital on 15 November, as he embarks on his last official overseas trip. The protesters, many of whom were part of Leftist groups including the Communist-affiliated group PAME, demonstrated a few kilometres away from the presidential mansion where a state banquet was being held for Obama.
According to Reuters, the protesters were angry that the US president had decided to visit the country just two days before the anniversary of the bloody 1973 student revolt that helped topple a Greek military junta backed by Washington.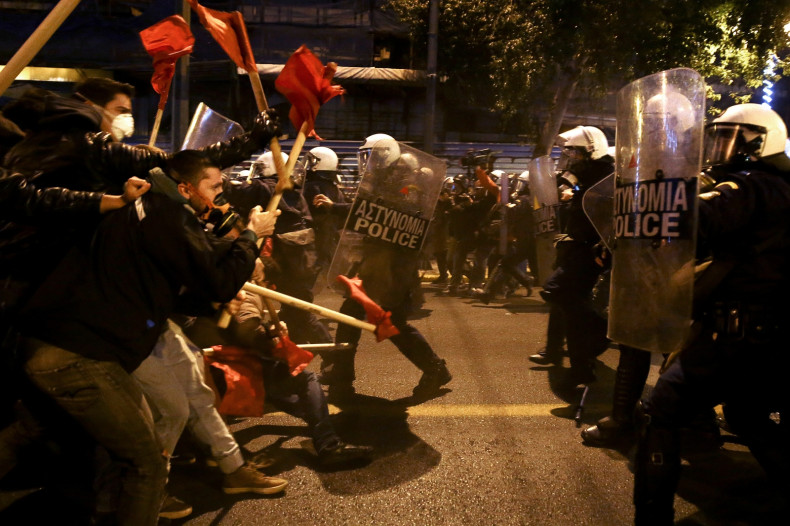 The crowd carried banners that read "Unwanted", "We don't need protectors!" and "Yankees go home" as they marched to the US Embassy in the capital.
The procession was disrupted as protesters clashed with police and attempted to break through cordons. In some places people burned US flags and Greek police were forced to use tear gas bombs to disperse the crowd.
Public gatherings have been banned in central parts of Athens due to Obama's two-day visit and riot police buses were parked along the routes the president would take. More than 5,000 police officers have also been deployed in the capital.
Greece is currently grappling with recession along with the escalating migrant crisis and Obama offered financial support to the country. "Our argument has always been that when the economy contracted this fast, when unemployment is this high, that there also has to be a growth agenda to go with it and it is very difficult to imagine the kind of growth strategy that's needed without some debt relief mechanism," he said after holding talks with Greek Prime Minister Alexis Tsipras.
However, not everyone seemed convinced by the outgoing president's statements as President-elect Donald Trump could change policies related to Greece. "He is not going to be in office in two months. Trump might follow a different approach. I think that Obama can't help Greece," Notis Marias, an independent member of the European Parliament told RT.