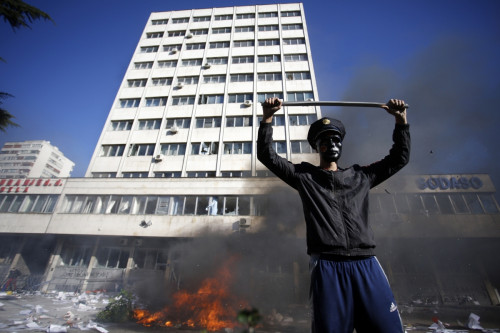 Bosnia-Herzegovina has been hit by a third day of violent protests, with demonstrators setting ablaze government buildings and police firing rubber bullets to disperse the crowd.
Around 7,000 people rallied in Tuzla, northern Bosnia, seizing and setting fire to the cantonal government building to protest against rising unemployment and the deteriorating economic situation in the country.
Protesters chanted "Thieves!" and "Revolution!"
The anti-government protest spread also to the capital Sarajevo, where 3,000 demonstrators faced riot police chanting "We want change", according to reports.
Riot police used water cannon to disperse the crowd trying to enter Bosnia's presidency building. Demonstrators threw stones and firecrackers before being pushed back by police, who fired teargas.
Smoke blanketed downtown Sarajevo. Some commentators online said it is the worst civil unrest in the country since the 1992-1995 war.
Smaller demonstrations took place in the towns of Zenica, Banja Luka and Bihac.
The chain reaction began on Wednesday after protesters clashed with police, leaving some 130 hurt, mostly from tear gas.
The Tuzla protests were started by unpaid workers of four former state-owned companies that were privatised and later filed for bankruptcy.
According to reports, the protests spread to about 20 towns and cities in total. Dozens of people have been injured in the clashes.
The civil unrest is unprecedented in postwar Bosnia since the war, where Serbs, Croats and Muslim Bosniaks have tolerated political stagnation for years rather than risk a return to conflict.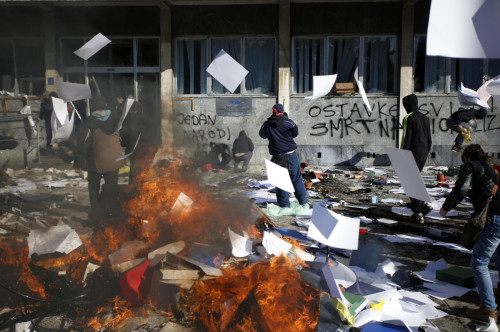 Source: Reuters and AP