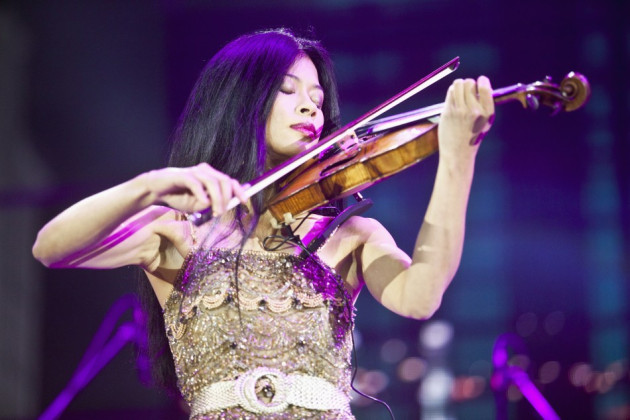 Violinist Vannesa-Mae is putting her musical career on hold while she attempts to qualify as a skier for the Thai national team at the 2014 Winter Olympics.
Mae, 34, revealed she will take a break from music for a year while she takes part in at least five internationally recognised events, in order to qualify to compete in several slalom events at the games in Sochi, Russia in February 2014.
If she qualifies, Mae will be only the second Thai athlete to compete at the Winter Olympics following cross-country skier Prawat Nagvajara's participation at the 2002 Salt Lake City and 2006 Turin Games.
She said: "People are surprised when they see me skiing - a classical violinist, Oriental, who has lived in the city all her life.
"But it has been my dream to be a ski bum since I was 14. This is something I am determined to do."
The violinist, who began her professional music career at the age of 10, is a British citizen but also holds a Thai passport. She was born in Singapore to a Chinese mother and Thai father but was raised in England after her mother remarried.
"I wanted to compete for Thailand because there is a part of me which I have never celebrated - being Thai," Mae added. "My father, like most Thais, has never skied but he's really excited about me doing this as is the Thai Olympic Committee."
Mae has been practising at the Swiss ski resort of Zermatt for the past three years. She hopes to compete in her first qualifying event by April.
International Ski Federation spokeswoman Riikka Rakic confirmed Mae needs a minimum of five starts in Federation Internationale de Ski (FIS) competitions and to reach a certain number of points in order to qualify for next year's Winter Olympics.
Rakic also said the violinist was one of five Thai athletes registered for a chance to compete for Thailand at the Games.
Rakic said: "She has a full year to quality and there are many events so there are plenty of options."
Mae, who has not released an album since 2004, confirmed she does plan to return to music even if she succeeds in her Olympic goals. She added: "It's time for a new album but doing this will give me a new perspective.
"Living my dream of being a ski bum is great but the best job in the world is being on stage, making music.
"When it comes to music I am a perfectionist but when it is skiing, I have no delusions about a podium or even being in the top 100 in the world.
"Of course there is a risk that I could break something but life is short and you have to go for it."