VIP lounge becomes quake refuge in stricken Turkish city
Turkey's Interior Minister Suleyman Soylu has warned the next 48 hours would be "crucial" in the hunt for survivors.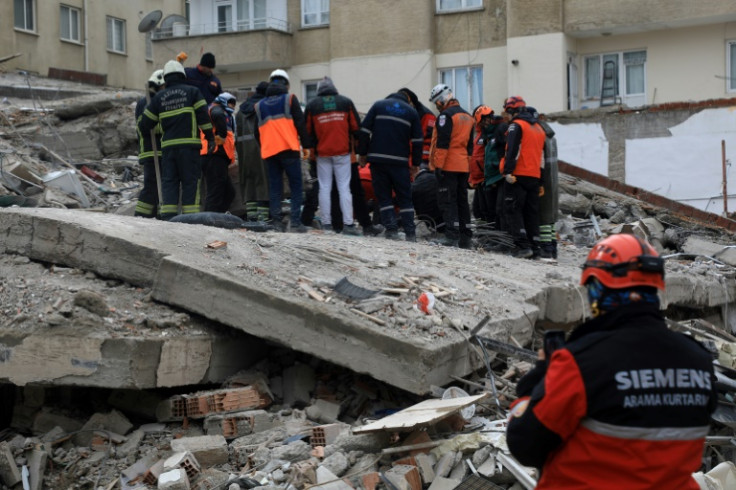 Desperate survivors sought refuge in the airport near Turkey's quake disaster zone on Tuesday, as hundreds of rescuers from more than 70 countries landed in the country.
As the search for survivors enters a critical phase, teams from Britain, Qatar and Israel were arriving at Gaziantep airport -- near the epicentre of Monday's devastating quake that left more than 7,800 dead and many still trapped in the rubble.
Aware that disaster relief is now a race against time, international rescuers marched through the VIP lounge at the Gaziantep airport, with much-needed equipment and expertise.
Turkey's Interior Minister Suleyman Soylu has warned the next 48 hours would be "crucial" in the hunt for survivors, with temperatures barely above freezing.
With survivors scared to return to their homes after the devastating 7.8 magnitude tremor, the airport has become a refuge for many.
About 100 people wrapped in blankets slept in one lounge of the terminal normally used to welcome Turkish politicians and celebrities.
Local authorities have banned people from staying in apartment blocks because of the many aftershocks hitting the region.
Mustafa Ehianci, a 20-year-old student, was among those huddled in the airport's VIP lounge, with five other members of his family.
He said he had been asleep when the first tremor hit on Monday.
"It was like a bad dream, a roller coaster," he recalled.
"We were waiting outside when the second quake struck a few hours later. Now we are all terrified," Ehianci told AFP.
"We are sleeping here, eating here. We are safe in this area, there is electricity and sewage.
"I don't know when we will leave."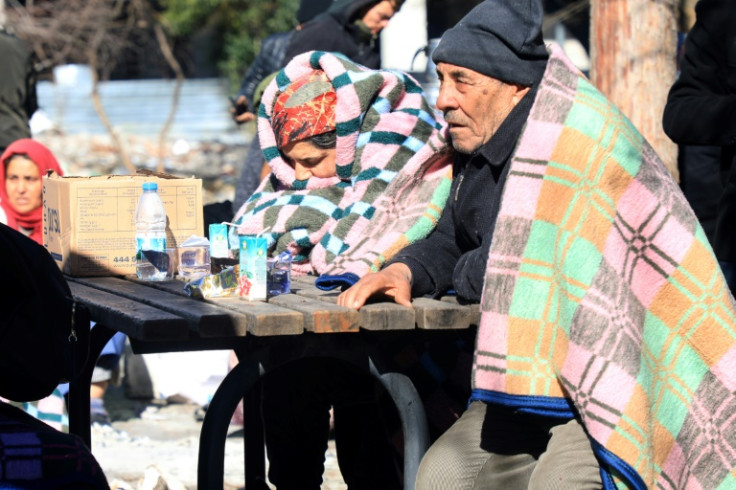 Tens of thousands in the city of two million people spent the cold night in cars or huddled around fires set up in the street.
But authorities fear there could be thousands still trapped under rubble in the worst-hit zones in Turkey and Syria.
Dave O'Neill, leader of a British emergency service rescue team, said the coming hours would be "absolutely critical" in the scramble through the quake debris.
"That is why we are so keen to get to work as fast as we can to make the most of the rescue window in front of us," he said shortly after the 77-person British squad arrived at Gaziantep airport.
The team just wanted to "get out as quickly as possible," he said.
"We have search teams and dogs. We need to get out there and establish our base and link up with the other teams."
Qatar has sent a 120-strong rescue team and Israel has sent dozens of specialists to help with the relief effort, while aid planes have arrived from Turkmenistan and several Gulf states.
Inside the airport, one Turkish soldier walked around carrying a small baby, in a bid to stop the infant crying.
Mothers with small children were even huddled up sleeping inside the office of the VIP lounge director.
"We saw the buildings collapse so we know we are lucky to be alive," said Zahide Sutcu, who went to the airport with her two small children after fleeing her apartment.
"But now our lives have so much uncertainty. How will I look after these children?" she asked.
"We are desperate."
© Copyright AFP 2023. All rights reserved.