There was a thrilling finish to the Virgin London Marathon as Ethiopia's Tsegaye Kebede won the men's race in a time of two hours, six minutes and 13 seconds. For our picture report from the event, click here.
It was a marvellous piece of calculated running as Kebede chased down Emmanuel Mutai in the final 1,000 metres.
This was Kebede's second London Marathon win. The Ethiopian, who last won the event back in 2010, was lagging behind at the start of the race and looked as if he had too much ground to make up with five miles left to run.
However, he was able to hit the front in the closing stages and eventually was first past the finishing line.
As well as his victory three years ago, the 26-year-old finished third in 2012 and second in 2009.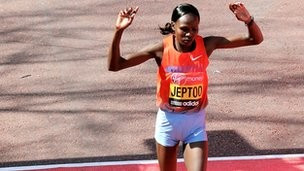 The women's race was won by Kenya's Priscah Jeptoo, with a time of two hours 20 minutes and 14 seconds, some distance ahead of compatriot Edna Kiplagat in second. Japan's Yukiko Akaba was a surprise third.
Jeptoo dropped to her knees to offer up a prayer before greeting her compatriot Kiplagat.
There was early drama when women's favourite Tiki Gelana collided with a wheelchair athlete and fell off the pace.
The London 2012 Olympic champion was in the leading pack at the 15km mark when the incident occurred.
Canadian wheelchair racer Josh Cassidy, who was involved in the collision,a told the BBC: "It's something I have mentioned before. I don't know who's responsible, but every year we come to overtake the women, there's 10 chairs going at 20mph and the poor women are scrambling to find their feet.
"I have a brand new $2,000 pair of wheels that are damaged, who's going to pay for them? Things have to change.
"The safest thing would be to have the chairs start first because one of these years a woman is going to have a leg broken, a career ruined. It's just not worth having this programme if the races are going to suffer."
Prince Harry, who is the patron of the London Marathon Charitable Trust, was in attendance.
He said it was "never an option" that he would not be at the race because of security fears following the Boston bombings.
"There were rumours here and there but everyone who was planning on coming is still here," he said. "The great thing about the marathon is that no matter what colour you are, no matter what religion, no matter what nationality you are, everyone comes together."
He said the way Boston had coped in the aftermath of the bombings was "absolutely remarkable".