Russian president Vladimir Putin used his annual state of the nation address to take a swipe at Turkey, saying it backed terrorism and that Russia would never forget Ankara's downing of its fighter jet.
Among the 1,000-strong audience of government officials, media chiefs and religious leaders, was the widow of the pilot killed when the SU-24 jet was shot down by Turkey in November.
Turkey says the jet had strayed into its airspace, claims Moscow denies, and the incident was a focal point for Putin's address at the Kremlin's St George Hall. "It seems Allah decided to punish the ruling clique in Turkey by relieving them of their sense and judgement," he said.
However he said there would not be a "hysterical reaction" but pointed out that "if people think that after carrying out a cynical war crime, killing our people, they'll get away with a tomato ban or some limits in the construction sector, they're very wrong".
Russia has imposed economic sanctions on Turkey, and accused top officials of involvement in the trade of illegal oil with Islamic State (Isis/Daesh). "We will keep remembering what they did. And they will keep regretting it," the Russian president said.
Putin admits economy is in trouble
Compared with last year's address, noticeably absent was any mention of Ukraine, where in the east a conflict has been raging. Russia observer and former editor of the Moscow News Natalia Antonova told IBTimes UK that Putin's speech offered no surprises.
"It is all very much in his style, people were surprised that there was no focus on Ukraine, but this is what his government does. The mood swings wildly from one enemy to the next enemy so it makes a lot of sense for Turkey to be the enemy now.
"I think he has a real problem with Turkey. He perceived it as a personal slight, because the Turkish and Russian governments are similar in that they drum up nationalist sentiment and clamp down on press freedom," she said.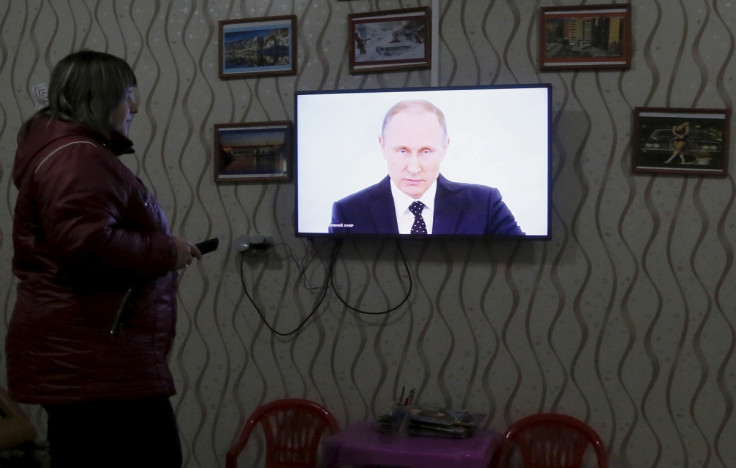 Putin referred to the Russian economy, which he described as "very difficult" however he said the situation was "not critical. Russia should not wait for oil prices to grow. We have to be ready for the fact that sanctions and low prices will stay with us for a while," said the president.
Antonova said it was no surprise that Putin was trying to play down the country's economic woes. "Putin always makes it seem there is no problem within the administration, all the problems are at the feet of Americans or corrupt officials in the government he has nothing to do with," she said.
After referring to terrorism and Turkey, Putin's speech moved on to specific local issues. However his hour-long speech did not have everybody enthralled and there were images on social media showing some of those listening losing concentration.
Television cameras appeared to show several people in the audience, including the prime minister, Dmitry Medvedev, struggling to keep their eyes open during the speech.