In a scene straight out of TV series Sons of Anarchy, rival motorcycle gangs opened fire in deadly shootout on 17 May at a Twin Peaks restaurant in Waco, Texas. The violent shooting led to the deaths of nine people, injuries to 18, more than 190 arrests and the likely closure of the franchised eatery.
Those arrested were charged with engaging in organised crime and are being held on $1m (£650,000) bond, authorities said. Police added that capital murder charges are expected. According to CBS News, members of at least five rival gangs had gathered at the restaurant for a meeting when the violence erupted shortly after noon.
Twin Peaks, where the violence unfolded, is a national restaurant chain which features waitresses in revealing clothing. According to CBS News, the owners of the Waco establishment knew of the gang meeting before it happened and several Waco officers, at least 12, were outside of the restaurant before the fight broke out.
Officials confirmed that some of those shot, were hit by police gunfire, CBS News reported.
The franchise restaurant is coming under fire from authorities and even from its corporate parent for failing to do anything to prevent the shooting.
"We are in the people business and the safety of the employees and guests in our restaurants is priority one," the restaurant's corporate office said in a statement released on Facebook. "Unfortunately the management team of the franchised restaurant in Waco chose to ignore the warnings and advice from both the police and our company, and did not uphold the high security standards we have in place to ensure everyone is safe at our restaurants. We cannot tolerate the actions of this relatively new franchisee and have revoked their franchise agreement effectively immediately."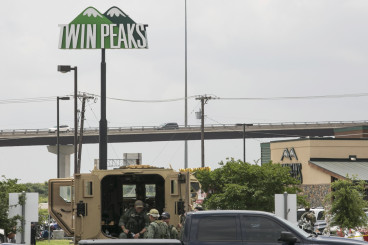 The company continued: "Our sympathies continue to be with the families of those who died and are very thankful no employees, guests, police officers or bystanders were hurt or injured."
According to CBS News, the Twin Peaks restaurant, located at the Waco Market Place, had its alcohol licence suspended by the Texas Alcoholic Beverage Commission (TABC) for seven days due to the shooting.
The agency warned: "Any wrongdoing uncovered during the investigation could result in further action against the restaurant, including monetary fines, further suspension, or cancellation of its TABC licence to sell alcohol."
The violent incident left the restaurant and its parking lot covered in blood, bullet shell casings and bodies, The New York Times reported. All nine victims were members of the Bandidos or Cossacks gangs, according to McLennan County Sheriff Parnell McNamara.