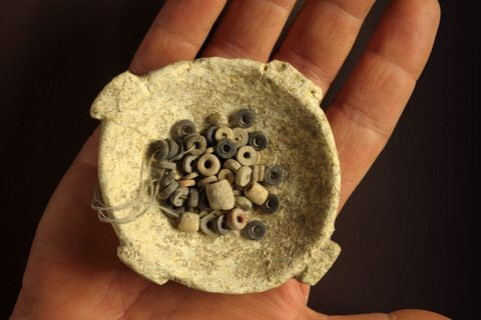 A string of 200 black white and red stone beads, stone bowls, stone plaques with tantilizing carvings and clay figurines of animals, dating back to the prehistoric times have been excavated at the Ein Zippori site in northern Israel.
The artifacts were discovered ahead of a widening project of Highway 79, archaeologists at the Israel Antiquities Authority, announced.
The Ein Zippori site, located near Lower Galilee, contains prehistoric settlement remains ranging from the Pre-Pottery Neolithic period (10,000 BCE) to the Early Bronze Age (5,000 BCE). The artifacts likely belonged to the Wadi Rabah culture that existed in Israel towards the end of the sixth millennium and the beginning of the fifth millennium BCE.
"The excavation revealed remains of an extensive settlement from the end of the Neolithic period and beginning of the Chalcolithic period in the country belonging to the Wadi Rabah culture," IAA excavation directors Dr Ianir Milevski and Nimrod Getzov said in a statement.
The Wadi Rabah culture is marked by rectangular architecture, stone foundations with mud brick walls, colourful pottery with decorative designs and vessels painted black and red. Several earlier excavations in Ein Zippori have also yielded remains from the Wadi Rabah culture, which turns out that this antiquities site is one of the largest in the country where there are remains of this culture, according to archaeologists.
The recent finds, mainly stone seals bearing decorative incisions, are indicative of the religious beliefs of prehistoric people in the region.
"Among the stone plaques is one that bears a simple but very elegant carving depicting two running ostriches. These objects represent the world of religious beliefs and serve as a link that connects Ein Zippori with the cultures of these periods in Syria and Mesopotamia," Milevski and Getzov said, adding: "The arrival of these objects at the ʽEin Zippori site shows that a social stratum had already developed at that time that included a group of social elite which used luxury items that were imported from far away countries."
In addition, clay figurines of sheep, pig and cattle suggest the importance those people and cultures gave to animal breeding.