Wales has taken part in a minute's silence to remember the 116 children and 28 adults who died in the Aberfan disaster 50 years ago today (21 October). The silence took place at 9.15am, the exact time when thousands of tonnes of coal and slurry from the Merthyr Vale Colliery came hurtling down a hillside, destroying the Pantglas Junior School and 20 nearby houses in the process.
Survivors of the disaster as well as the families of the children who were buried in the rubble were among those to take part in the commemorative ceremony in the Welsh village's cemetery.
Prince Charles is also due to visit Aberfan to pay tribute to those who died, as well as unveil a plague in their memory.
Services of remembrance will continue to take place in a number of local churches as well as on the site of the old school, which has now been turned into a memorial garden.
First Minister of Wales Carwyn Jones said the country should never forget all those who died in Aberfan 50 years ago.
He added: "It is a truly heartbreaking moment in our history and no one who learns about the disaster can fail to be profoundly moved by it.
"Half a century on, I hope the country as a whole will come together, with respect and compassion, to pause for a minute at 9.15am and think of the community of Aberfan".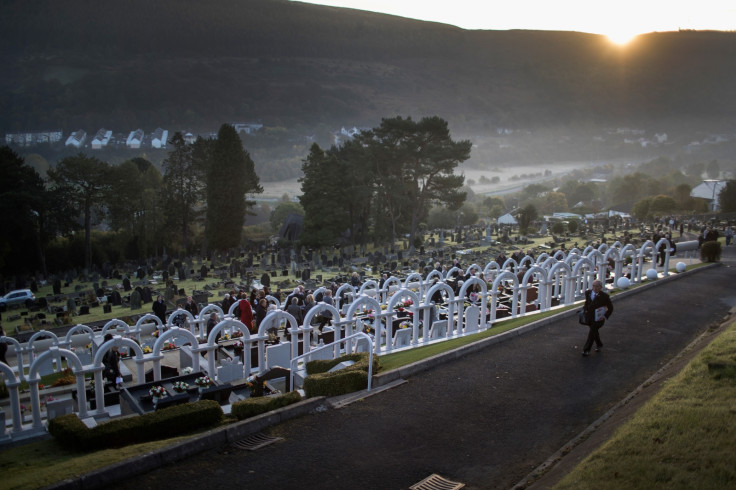 One of those in attendance was survivor Gaynor Madgwick, whose brother and sister died in the tragedy. She previously spoke of how she struggled to get over the trauma.
She told IBTimes UK: "There was no counselling, there were no support mechanisms in place and no services. Because the grief was on a massive scale, people thought well, you're alive, your injuries will get better, but the psychological scars are always prevalent and still are today."
Prime Minister Theresa May previously paid her respects to the dead in a speech in the House of Commons. She told MPs: "I think it is appropriate that we all mark and show our respect for those who lost their lives and the families who suffered as a result of the Aberfan tragedy that took place those 50 years ago.
"It was, as we were saying earlier, a terrible tragedy not just for individual families but for a whole community and I think it's right we recognise that and mark it."
Following a 76-day inquiry into what happened at Aberfan, no one was prosecuted or even loss their job in the wake of the disaster.