Trump booed as he attacks Clinton at Al Smith charity dinner
The white tie gala event in Manhattan is a fundraiser for Catholic charities related to the Archdiocese of New York.
Donald Trump was booed at the Alfred E Smith Memorial Foundation dinner on Thursday (20 October) for calling his opponent and Democratic nominee Hillary Clinton "corrupt". The white tie gala event in Manhattan, which is often the last time two presidential candidates share the same platform before the election, is a fundraiser for Catholic charities related to the Archdiocese of New York.
The nominees traded barbs, just a night after the third presidential debate. In the past, presidential nominees have addressed the attendees by roasting themselves while throwing in good humoured jabs at their rivals.
Earlier in the speech, Trump drew some laughs at the Waldorf Astoria Hotel. He recounted the plagiarism of Michelle Obama's speech by his wife Melania Trump at the Republican National Convention.
"Michelle Obama gives a speech and everyone loves it, they think she's absolutely great. My wife, Melania, gives the exact same speech and people get on her case!" he said.
His speech quickly descended into attacks on Clinton that prompted jeers from the audience and shouts for him to stop speaking.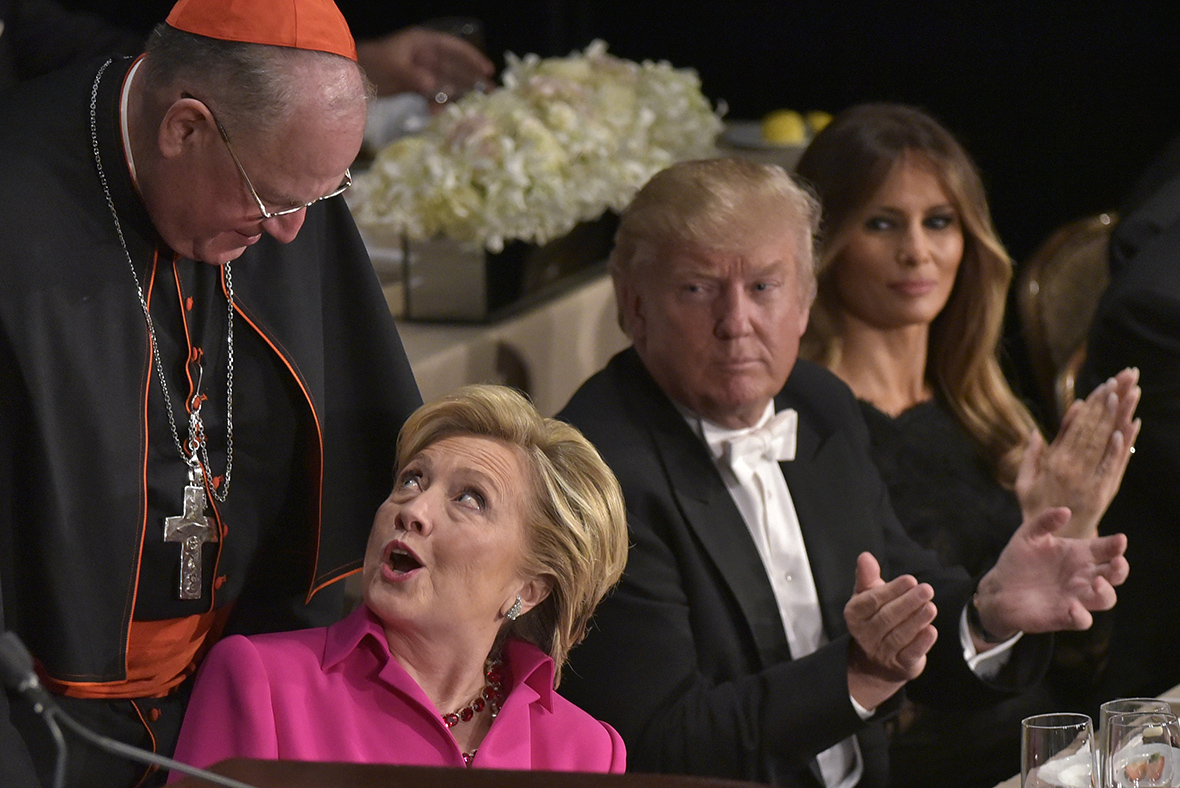 "Hillary believes it's vital to deceive the people by having one public policy and a totally different policy in private," Trump said referring to the mails of John Podesta, her campaign chairman, which were published by WikiLeaks.
In response to the boos, Trump said, "That's okay. I don't know who they're angry at, Hillary, you or I?" Trump continued his attack while standing at a podium, just a few feet away from Archbishop of New York Timothy Dolan.
"For example, here she is tonight in public, pretending not to hate Catholics," Trump said to growing boos. "This is the first time that Hillary is sitting down and speaking to major corporate donors and not getting paid for it. Hillary is so corrupt she got kicked off the Watergate commission."
The audience were not laughing and they were also not amused when he reiterated his comment of Clinton being a "nasty woman".
"Last night, I called Hillary a 'nasty woman.' This stuff is all relative. After listening to Hillary rattle on and on, I don't think so badly of Rosie O'Donnell anymore. In fact, I'm actually starting to like Rosie a lot," he said, referring to his decade-long quarrel with the actress and author.
Clinton retort
Clinton did not play nice either, but her speech was reportedly better received by the crowd. She needled Trump for his admiration of Russia and Putin while also making a remark on his refusal to release his health records.
"Donald Trump really is as healthy as a horse — you know, the one Vladimir Putin rides around on." Speaking about his failure to stick to teleprompters, she said: "I'm sure it's even harder when you're translating from the original Russian."
She also laid emphasis on his obscene behaviour towards women. "Donald looks at the Statue of Liberty and sees a four. Maybe a five, if she loses the torch and tablet and changes her hair."
Clinton roasted Trump for his comments at the third presidential debate, where he maintained ambiguity on accepting the outcome of the election results. "It's amazing I'm up here after Donald. I didn't think he'd be okay with a peaceful transition of power," Clinton said.
She also had a dig at Trump's running mate: "After listening to your speech I will also enjoy listening to Mike Pence deny you ever gave it."
Clinton mocked Trump for saying that she should be drug tested before the final debate. "I am so flattered that Donald thought I use some sort of performance enhancer. Actually I did – it's called preparation."