Warning, contains spoilers...
The Walking Dead's season five has seen Carole transform from a meek, grieving mother to a ruthless survivor so it is no surprise actor Andrew Lincoln and director Greg Nicotero have admitted to being "scared" of the character.
Speaking to IBTimes UK at London's Soho House on the finale air date in March, Lincoln, who plays Rick Grimes, praised his co-star Melissa McBride for her phenomenal performance throughout season five.
"I absolutely love working with Melissa McBride because when you're doing a scene with her, you don't know what she's going to give or how she's going to respond. It's great fun," Lincoln said. "She scares us."
The first episode of season five saw Carole massacre the cannibals at Terminus when they had captured members of her group while recent scenes have seen her terrorise a young child and manipulate the group at Alexandria.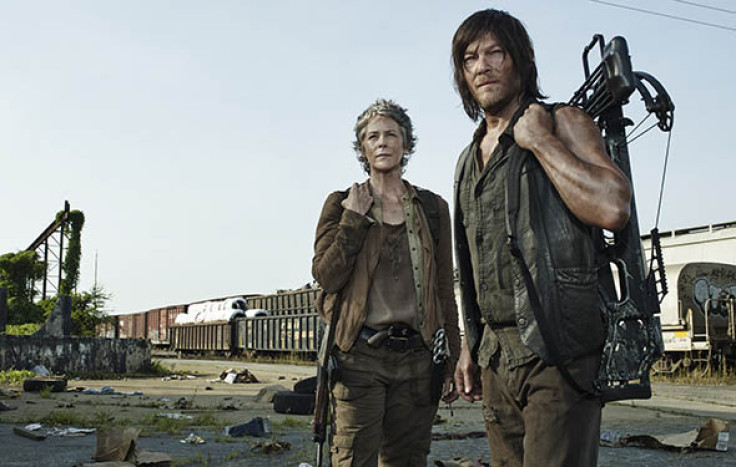 Nicotero, who has directed multiple episodes of season five, said of Carole: "She does [scare us], it's fascinating. I love the transition when she realises that Pete is abusing Sam and Jessie, I love the transition.
The special effects make-up designer also addressed the lack of awards The Walking Dead has won over the years despite being one of the highest-rated shows on TV.
He said: "What's strange about it is people sometimes just label our show. They don't realise the depth of the storytelling or performances. We really feel that emotionally, we take our viewers on a journey. It's not just a spectacle of killing zombies. It's about what would you do if you were in that position? I think the success of the show hinges completely on that.
"I've watched episodes that I've directed and I get emotional. The episode with Tyreese... I cry every time I watch that. That doesn't happen when you watch television."
The Walking Dead will return with season six in October, while the spin-off series, Fear The Walking Dead, starts in the summer.