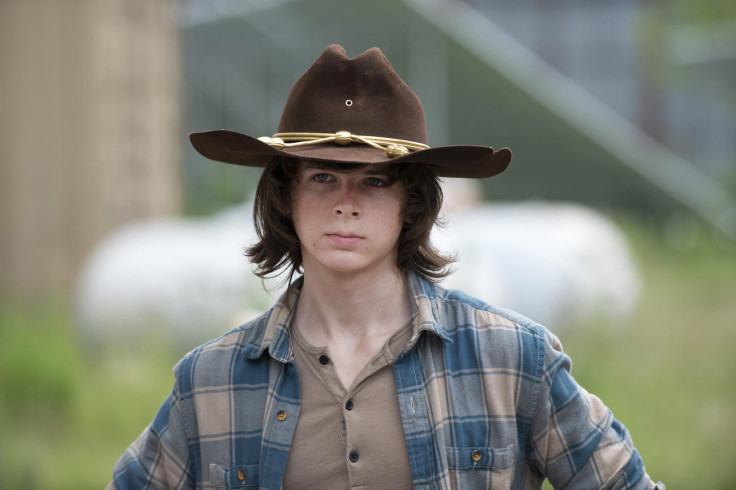 When you're in a show as popular as The Walking Dead, rumours about you are pretty inevitable. But actor Chandler Riggs isn't accepting any of the gossip, slamming reports that he is to exit the zombie apocalypse show.
The 17-year-old star will soon be going to college, and had TWD fans worried about the fate of his on-screen counterpart, Carl Grimes.
Speculation was rife last month in regards to the actor's fate on the hit television series, as his real-life father appeared to suggest that his contract was complete despite his mother slamming the rumours about his alleged departure.
Riggs himself wrote on Facebook to address the rumours, writing to his loyal fans: "7-year contract completed! Grateful to AMC, Cast & Crew, TWD fan base and especially Chandler for always being 100% dedicated." So it seems that Riggs is in it for the long run.
He also spoke to The Hollywood Reporter about his role on the show, and claimed that if his character were to be written out, it's the first he's heard of it. He told the publication: "You never know how it will go. I really do hope it works out because that would be really cool.
"I like to be in The Walking Dead and I like to play video games and just hang out with my friends and try to be as normal as possible so going to college would be another really cool, normal experience in my life. I want for it to work out."
He continued: "Theoretically, I could take one or two classes on campus and maybe an online class. My professors would have to be willing to cooperate. It wouldn't be easy, but I think that could be possible."
His character Carl's presence seems to be getting greater on the show, as the latest episode saw him at the centre of events when he arrived at the Sanctuary in a bid to avenge the deaths of both Glenn and Abraham. But instead of killing the nefarious Negan once and for all, he ended up being led around the compound by the Saviours' leader.
Elsewhere in the show, the latest intense trailer for the eighth episode reveals a few hints that Negan may murder again following the seemingly gory tradition of main characters being brutally killed ahead of the mid-season break.
The terrorising 30-second clip shows Rosita – played by Christian Serratos – holding up a bullet which she persuaded a reluctant Eugene (Josh McDermitt) to make for her. Things have taken a rather paranoid turn on the show as Rosita is determined to be armed at all times in case of an attack, as the villainous Negan took away the Alexandrian's store of ammunition.
In lighter news, there may be some hope for Daryl (Norman Reedus) who is spotted attempting to escape his prison cell at the Saviours camp.
The Walking Dead airs on Sundays at 9/8c on AMC and on Mondays at 9pm on FOX.